George Hotz Wants to Sell You a Kit to Make Your Car Autonomous
And it will cost less than $1,000.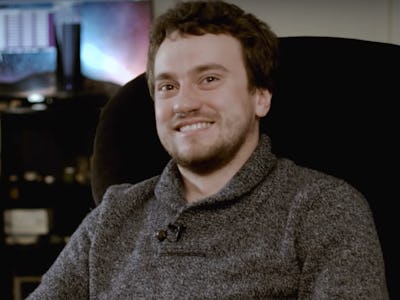 Bloomberg
Self-driving car technology is all the rage. Ford says it will have the technology by 2020, GM and Lyft are lobbying Congress, and Google's autonomous technology drives 3 million virtual miles every day.
But a 26-year-old hacker and his small team of software engineers plan to upend the entire market with a kit to retrofit your car into semi-autonomy by the end of 2016.
George Hotz's company, Comma.ai, received $3.1 million in funding from technology investment firm A16z on the first weekend of April. Flush with new money, Hotz plans to build on his staff of four to meet his ambitious end-of-year deadline. Comma.ai's final product will be compatible with most cars made before 2012, and it will cost less than $1,000.
If you haven't heard of Hotz before, his plan might sound crazy. Hotz, however, has already proven himself in more ways than one. He was the first person to hack an iPhone back in 2007 when he was just 17 years old, and he found his way into the hard-to-crack Playstation 3, as well. In December of 2015, he called out Elon Musk and Tesla in a Bloomberg profile featuring an autonomous vehicle he built in a month.
All the press got Chris Dixon from A16z interested. Dixon met with Hotz to see if he was the real deal.
"I tested his car, and, along with some of my colleagues and friends with A.I. expertise, dug into the details of the deep learning system he'd developed," Dixon wrote in a Medium post. "I came away convinced that George's system is a textbook example of the 'WhatsApp effect" happening to A.I."
The "WhatsApp effect" Dixon mentions is the result of open-sourced information being available for independent inventors.
Hotz's software relies on deep learning algorithms that are taught first from being driven by a human, and then informed by machine algorithms. In addition to being made in 2012 or prior, cars will need to have anti-locking brakes and power steering in order to be Comma-compatible.
"We're not ever building the transportation-as-a-service kind of stuff," Hotz told re/code. "We are building a product where you install a Comma system in your car and watch as it gets more advanced and more sophisticated. The real dream is auto commute — where you press the button and the car pulls up in your driveway and takes you where you need to go."
If the A16z investors' hunch is correct, the first autonomous vehicle you drive won't be a new car. It will be your old car with a retrofitted kit created by a 26-year-old hacker.