Trump Hotels Hacked by Anonymous? Signs of Credit Card Fraud Appear Again
It's not easy being a demagogue in this day and age.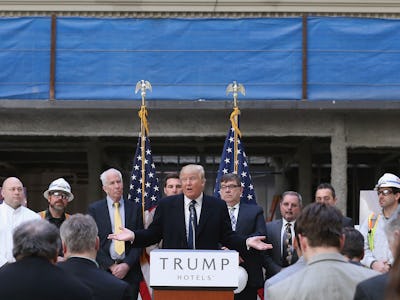 Getty Images
Donald Trump's luxury hotel chain appears to have suffered a digital breach, leaving the credit card information of customers exposed. Sources in the financial sector have notified Trump's company that "they've noticed a pattern of fraud on customer credit cards which suggests that hackers have breached credit card systems at some – if not all – of the Trump Hotel Collection properties," Brian Krebs, an online security specialist told Digital Trends.
The breach would constitute the second time in the past few years that Trump's Hotel Collection has lost the credit card information of its customers. The previous attack lasted from May 2014 until June 2015 before the company was able to identify and plug the leak. While there's no evidence that either of the financial disruptions were the result of the kind of political hacking we've seen waged by Anonymous against Trump's companies as a result of his presidential bid, the current report does not rule out any motives either.
Another digital infiltration into Trump's hotel chain would undoubtedly draw attention to the group of hackers with Anonymous, who have committed to waging "total war" against the presidential candidate. Until now, the group's hacks have proven relatively mild, typically resulting in brief outages at the websites of some of Trump's companies but falling well short of doing any permanent or real financial damage. The loose-knit group did manage to break into Trump's voicemail, record the messages, and change his greeting, but they found little in the way of incriminating information.
The theft of private information from the servers of Trump's hotels would constitute a major escalation in Anonymous's war on the candidate. It would also mark a shift in tactics, with the group targeting not only Trump's businesses but his customers. After all, the attack stole the private credit card information of those who had accessed Trump's hotel and not necessarily those who donated to him. Such a shift would likely earn the group detractors even among their current supporters, because, let's face it, when they said total war, everyone knew they were exaggerating.
The Secret Service does offer Donald Trump full-time protection at this stage of the campaign, and it's unclear if the hack does turn out to be politically motivated whether it will play a role in the investigation. Even as his company websites have come under a barrage of DDoS attacks from Anonymous, the Secret Service has only investigated reports that someone associated with the collective had released Trump's private information, including his social security number, online. It turned out to be a hoax.
The direct attacks on Donald Trump's campaign, which carries an "unfavorable" rating of 63 percent today, would seem to be the first acts of digital disobedience to grace American politics, but that doesn't mean the web hasn't already changed the kinds of indignities a candidate may face. Notably, throughout Senator Rick Santorum's 2012 presidential bid, he had to contend with his most popular Google search result pointing to a prank website established by sex columnist and LGBTQ advocate Dan Savage. Following comments made by Santorum likening legalizing same-sex marriage to doing the same for polygamy and pedophilia, Savage organized a campaign to associate the name Santorum with "the frothy mix of lube and fecal matter that is sometimes the byproduct of anal sex." The vexing problem drew Santorum's ire, and he was one of the only people to actually notice once it was gone.
So, even if you believe Trump is a demagogue, don't go after his customers. Go after his Google search result. And, if you need some ideas, Anonymous, make Donald Drumpf again.