The 'Game of Thrones' Season 6 Preview on SNL Had a Scene-Stealing CGI Dragon
Dragon CGI is serious business, you guys.
by Kastalia Medrano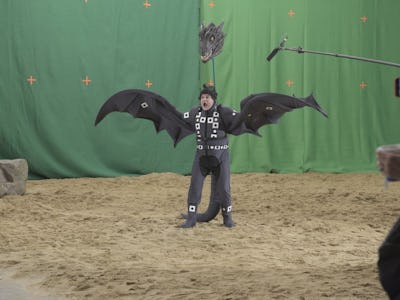 Saturday Night Live
Game of Thrones actors Emilia Clarke and Peter Dinklage gave Game of Thrones fans their first look at Season 6. Sort of. The new sneak peek video, produced with Saturday Night Live, finally explains the extremely technical CGI work that goes into bringing the HBO show's famous dragons to life.
"Do not be alarmed, citizens," Dinklage reassures to the off-screen masses as a man in a CGI bodysuit (played by a particularly expressive Bobby Moynihan), complete with wings and a dragon head on a stick sways shrieking behind him. "He is our friend."
It's pretty good value. Moynihan's Randy Carnival as Dragon Mocap flies around interrupting people and peeing his pants while Dinklage and Clarke try to maintain professional decorum. Mostly it's Moynihan's shrieking that makes it all worthwhile.
Iain Glen (Ser Jorah Mormont) also makes a few appearances to comment on the seriousness and high production value of the whole thing. "Some of these effects they're doing are just truly incredible," he says, romancing the camera with his eyes while Carnival spews water from his mouth, behind him. "War is not a game, he tells us, before Carnival slowly rises behind him to add, "…of thrones…"
Anyway, this escalates until the guy really does pee his dragon pants. Predictably, jokes this silly do get some blowback.
Enjoy the rest of your weekend, people. Season 6 of Game of Thrones airs on HBO on April 24.
See also:
33 Things We Learned from the New Game of Thrones Season 6 Trailer
What Game of Thrones Season 6 Controversy Will Cause Fans To Rage-Quit the HBO Hit?
Game of Thrones Season 6 Trailer Previews Battle of the Bastards
Why Black Sails Is Officially Better Than Game of Thrones