Photos of Benedict Cumberbatch on-Set as Doctor Strange Hit Twitter
Dude has a cape and everything.
by Kastalia Medrano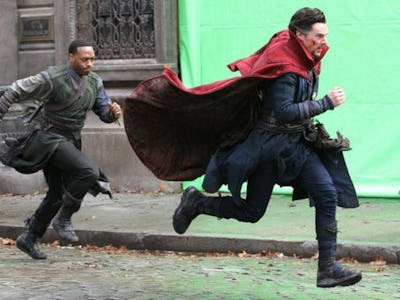 @TheMCUExchange
Photos of British actor/internet boyfriend Benedict Cumberbatch in costume as Doctor Strange hit Twitter on this weekend, and the eponymous Marvel film will hit theaters on November 4.
The images – some of them already memed – were taken while Doctor Strange was shooting in New York City, and reveal a caped and bloodied Cumberbatch running, having his hair and makeup touched up, and generally giving direct, moody looks to the camera. Also pictured is British actor Chiwetel Ejiofor in the role of Baron Karl Mordo. He looks moody and intense also, but wears green. Cumberbatch's wife Sophie Hunter was also photographed on set.
Cumberbatch's iteration of the Marvel hero will be more magical, less muscly than the usual superhero fare. Cumberbatch himself has previously said that he's still learning how to be a convincing superhero — apparently, putting on a red cape does not instantly bestow this knowledge upon you.
The depiction of Dr. Stephen Strange, a neurosurgeon who suffers a life-altering car accident, marks yet another superhero origin story for Marvel. The film is being directed by Scott Derrickson, of The Exorcism of Emily Rose fame, who is expected to bring a darker and more mystical vibe to the movie than we generally see from Marvel.