10 TV Shows Featuring Black Leads That The Whole World Should Be Watching
Shows like 'Orange is the New Black', 'Undercover' and 'Empire' are bringing black narratives to the forefront of television.
by Christine Jun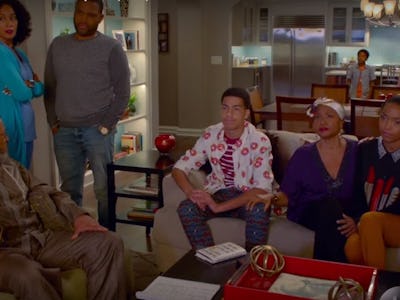 In a time when Hollywood studios and the Academy are under fire for their lack of diversity, TV shows still remain a step ahead –– especially in terms of showcasing black leading roles. So it's surprising to hear that award-winning TV shows like Empire and Undercover are not winning the international audiences they so deserve.
Did large numbers of people miss out on Emmy Award-winning actresses Viola Davis's and Uzo Aduba's poignant acceptance speeches? Although television could still use increased diversity, there already exists a slew of quality dramas and comedies starring black actors. These series possess serious thespian power and have garnered major critical acclaim. We've compiled a list of programs that deserve everyone's attention, not just because they feature talented cast members of color, but also because they're just downright amazing:
Undercover
This 6-part BBC cop drama has been attracting a lot of press in the UK for (gasp!) featuring two brilliant black leads during a primetime slot. Thankfully, the color of the principles' skin is only one variable in the show's complex look at power and influence. In Undercover, Sophie Okonedo, Oscar-nominated for her role in the 2004 film Hotel Rwanda, plays a high-ranking lawyer poised to become the first black director of public prosecutions. Adrian Lester, who has won awards for several Shakespearean roles, plays her concerned husband and the loving father of their three children. When interviewed, Okonedo asked: "Why isn't my inbox of English scripts busting at the seams in the same way as my American one is?" Something's amiss, indeed.
Luther
Let's be honest about this popular BBC drama series, fueled by a near-genius, but equally self-destructive, murder detective: Luther's success is mainly about Idris Elba's powerful performance, which deservedly won an Emmy for Best Performance by an Actor. Despite his breakout role in Luther, Elba remains far from content with diversity in TV-land. Elba, who has also played an astounding range of roles on the big screen — from Heimall in Thor and the latest Avengers flick, to the unforgettable Commandant in Beasts of No Nation — spoke out in January to UK Parliament: "TV hasn't caught up with reality." Word, Elba.
Empire
Music. Money. Family. Cookie's attitude and killer outfits. Since its inception, not only has Fox's Empire rated in the top tier of primetime TV shows, but has proven itself strong enough to survive a lengthy mid-season hiatus, returning last Wednesday with numbers that made it the top-rated regular-timeslot series telecast on the Big Four networks in 2016. Boom.
Not only does this epic and glamorous drama dig deep into the Lyon dynasty's complicated history — plus the wheelings and dealings within the hip-hop industry — but it boasts an entirely original, catchy, soundtrack. Terrence Howard as Lucious Lyon, Taraji P. Henson as his unforgettable wife "Cookie," as well as Jussie Smollett, Trai Byers, and Bryshere Y. Gray as their sons, somehow manage to keep things both real and, simultaneously, of a Shakespearean grandeur. Deliciously soapy drama abounds when Lucious is diagnosed with ALS, the spectre of Cookie's prison past returns to haunt her, and their middle son Jamal (Smollett) comes out as bisexual. Then there's the endless string of cameos, including Naomi Campbell, Cuba Gooding Jr., Snoop Dogg, Rita Ora, Mary J. Blige, Alicia Keys, Rosie O' Donnell, Lee Daniels, Courtney Love, and Patty LaBelle. What's not to love about this show?
Blackish
This stand-out sharply observed comedy series, which centers on an upper-middle-class African-American family, raised eyebrows when it dared to take on an intergenerational "talk" - not about sex, but about institutionalized racism in the U.S.
The varied reactions of advertising exec "Dre" Johnson (Anthony Anderson), his wife Dr. "Bow" (Tracee Ellis Ross), their four adorable but over-privileged kids (Yara Shahidi, Marcus Scribner, Miles Brown, and Marsai Martin), and Dr. Dre's old-school father "Pops" (Lawrence Fishburne) appear to take place in real time. They witness police brutality against a young African-American male on their living room TV together, in one of the most honest and relevant scenes I've ever seen on primetime. Black-ish's unique strength - including its zany characters and witty, fast-paced dialogue, is its willingness to feature more serious discussions about a changing African-American identity in today's world.
Blindspot
Yes, this Momento-ish crime drama centers on Jane Doe (Jaimie Alexander) an unidentified woman found naked - except for the cryptic tattoos that cover her body - and amnesiac in Times Square. But its actors Rob Brown as Special Agent Edgar Reade, and Ukweli Roach as Dr. Borden shine as the FBI agents who must solve the mystery of her identity. Considering its stellar ratings on ABC, here's hoping that history repeats itself with a Season 2 of Blindspot.
Quantico
This ABC thriller series performed so well in its first season that it was renewed for another full season this March. Through a series of flashbacks, Quantico follows a group of young FBI recruits who battle through training in, duh, Quantico, Virginia, including Alex Parrish (Priyanka Chopra), who is suspected of committing a terrorist attack.
As if that didn't create enough narrative suspense, Aunjanue Ellis is not only known for her role is not only known as Miranda Shaw - Alex's mentor and the director of the training program at Quantico - but as already received critical recognition for her leading role in the 2015 miniseries The Book of Negroes, based on the bestselling novel by Lawrence Hill, as well as a Critics' Choice Award nomination for Best Actress in a Movie/Miniseries.
Supergirl
The premier of this DC Comics-based superhero adventure series took flight and managed to beat all new shows outright in total viewers. Credit for the show's early success definitely goes to Melissa Benoist in the title role of Supergirl/Kara Zor-El herself. But it's shared by her fantastic co-stars Mehcad Brooks as James Olsen, Kara's potential love interest, and David Harewood as J'onn J'onzz, a 317- year-old alien assuming the shape of former CIA agent, Hank Henshaw, who suspects Supergirl's otherworldly abilities pose a threat to humankind. Supergirl is up for possible cancellation, but Brooks remains a rising star to watch. He won a 2009 Satellite Award for his role in True Blood, and a Screen Actors Guild Award in 2010 as part of the ensemble cast of Desperate Housewives.
Scandal
Created by none other than the queen of primetime Shonda Rhimes, and starring outstanding actress Kerry Washington as politico crisis management uber-fixer Olivia Pope, this political thriller is unique in its hyper-real attitude. Not only is Washington's character partially based on former George H.W. Bush administration press aide Judy Smith (who serves as a co-executive producer), but Scandal also has a habit of featuring bizarre side-stories that play loose and fast with history.
Scandal's candid look at black femininity even sparked conversations on Melissa Harris Perry's now-defunct show on MSNBC.
The rather unhealthy Lewinsky-tinged romance between Pope and President Fitzgerald Grant (Tony Goldwyn) kept viewers entranced in the beginning, but the show has grown in scope since. But before you write the series off as a nighttime soap, remember that Scandal was named a Television Program of the Year by the American Film Institute. As for Washington, her serious acting skills reaped an Image Award for Outstanding Actress in a Drama Series.
How to Get Away With Murder
Viola, Viola, Viola. What Elba is to Luther (see above), Viola Davis is to Annalise Keating, a prestigious Philly law prof entwined with her five students in a murder plot. Besides her impassioned and inspired speech at the Emmys urging Hollywood to allow actresses of color more opportunity, Davis also became the first African-American woman to win an Emmy Award for Outstanding Lead Actress in a Drama Series. Before HTGAWM, Viola Davis managed to out-shine the great Meryl Streep in one fantastic scene from 2008's Doubt.
In addition, Viola also won the SAG Award for Outstanding Performance in a Drama Series, and the Image Award for Outstanding Actress in a Drama Series. As for the murder series itself, How to Get Away With Murder was named Television Program of the Year by the American Film Institute, and won for Outstanding Drama Series at the Image Awards and GLAAD Awards. Did I also mention that this ABC series lives in Shondaland too?
Orange is the New Black
Orange is the New Black made strides in the depiction of black women on television — with "Tastee" Jefferson (Danielle Brooks), Poussey Washington (Samira Wiley), and fan-favorite Suzanne "Crazy Eyes" Warren. Uzo Aduba, who plays Suzanne, won a Primetime Emmy Award for Outstanding Guest Actress in a Comedy Series in 2014, a Primetime Emmy Award for Outstanding Supporting Actress in a Drama Series in 2015, and two Screen Actors Guild Awards for Outstanding Performance by a Female Actor in a Comedy Series in 2014 and 2015.
If OITNB's cast isn't enough to warrant your undivided attention, the fact that this women's prison dramedy is Netflix's most-watched original series, and has also garnered a crazy amount of awards — including two Emmys, two Producers Guild of America Awards, an American Film Institute award, and a Peabody Award — is reason enough to watch. Obviously, OITNB is doing something right, and it's racially diverse all-female cast is definitely a factor.