Why 'Empire's International Ratings Are Really Low
Television series in the U.S. are becoming more inclusive and diverse, but their international reception hasn't been great.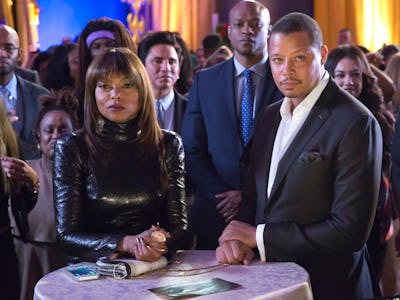 Fox
Empire is a hit in America. It's big, bold and deliciously dramatic, the first season saw outstanding ratings and it's been enormously well received in the States. But in the international markets, the show has been a flop.
And it's not an isolated trend: It seems as though Hollywood's diverse and inclusive series aren't translating to international audiences. Why is that?
Since its premiere last January, Empire has swiftly quieted the naysayers, ushering in critical acclaim and pretty sterling popular opinion. Its first few episodes saw ratings of 3.8, 4.0 and 4.4 respectively — those are juggernaut numbers, and certainly not the kind of ratings that new shows are accustomed to seeing. Though it saw the inevitable Season 2 stats dip, the ratings remain very high and Fox has renewed the show for a third season.
Internationally, though, it's a different story. According to The Hollywood Reporter, Empire's international ratings started low and have continued to fall. In the UK, seasons 1 and 2 drew 717,000 and 595,000 respectively on E4. A major German network put the show in a primetime slot, but it pulled fewer than 1 million viewers — far less than the network's typical draw in that slot. Australia's numbers were worse at 181,000 and 77,000 for seasons 1 and two, and Canada pulled the show during the second season, when less than 208,000 viewers tuned in.
By way of contrast, in the United States, television shows that include diverse casts have been greeted as a welcome relief to the severely homogenized casts that typically appear on networks — The Hollywood Reporter points out the success of Black-ish and Fresh Off The Boat in addition to Empire's impressive ratings performance. So why aren't these successes carrying over to international markets?
According to The Hollywood Reporter, international audiences haven't been as receptive to diverse casting.
But when trying to sell overseas, American shows are finding the color barrier is still there. Why? Insiders say it's because international audiences have yet to truly embrace diversity on the small screen. "These shows are a reflection of our society, but [they are] not a reflection of all societies," says Marion Edwards, president of international TV at Fox.
Does the international ratings problem boil down to racism? Are international audiences just resistant to the idea of diverse actors, roles and stories? The Hollywood Reporter also tapped University of Iowa professor of African-American studies Timothy Havens for the answer.
Havens told THR's Scott Roxborough that the import of the shows like The Cosby Show and Fresh Prince of Bel-Air, along with, "the success of the original Roots mini-series proved there is an interest in black stories abroad…But the pattern we've seen, again and again, is that black shows break new ground that white shows benefit from. So Roots was followed by a number of white miniseries that were very successful abroad, Fresh Prince by white youth-oriented shows." Havens goes on to highlight the difference between diverse casts and diverse stories.
Havens also draws a distinction between shows like CSI and Shonda Rhimes' Shondaland productions (Grey's Anatomy, How to Get Away with Murder) which feature "black faces but non-ethnically specific kinds of stories" and are often very successful worldwide— and the "specifically black stories" of series like Empire and Black-ish, which tend to sell only to smaller niche networks outside the U.S..
The poor performance of Empire may also have something to do with the way that audiences abroad watch television. The Hollywood Reporter found that while domestic audiences respond well to complex storytelling, procedurals like NCIS and CSI tend to be the popular picks outside of the United States.
"Diversity is an issue with our audience, but it's also the kind of shows coming out of the U.S. now — almost everything is serial, with long multi-episode story arcs, [and] that doesn't work for us," says Philipp Steffens, head of drama at RTL, Germany's leading commercial network.
Whatever the reason, it's pretty clear that Empire doesn't much need the international help for now. The show returns tonight from a three-month, mid-season hiatus and will be back for a third season in 2016-2017.