Anonymous Shuts Down Variety of Trump Websites
The group's most popular Twitter account also pretended to be hacked by a Trump supporter.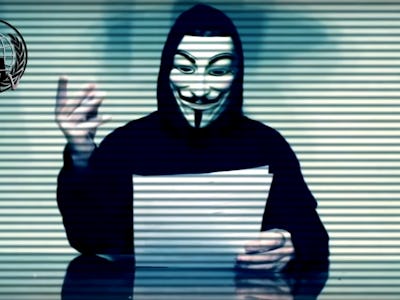 Twitter 
In early March, the online hacktivist group Anonymous declared "Total War" on Republican presidential candidate Donald Trump and called for hackers all over the world to attack his websites on April 1. With April Fools' upon us, the group did appear to mildly go after the billionaire.
Members of Anonymous today claim to have taken down the ability to book a Trump hotel room on trumphotelcollection.com, although users can still click through the multitude of stock photos cluttering the site.
The Anonymous Twitter account @AnonIron posted a photo showing the servers of the site down across the world, and they remain down at time of publishing.
The group's original goal was to shut down Trump International Hotel & Tower in Chicago, which it did for a time earlier this morning, but that site is back up and running. A commenter noted that a number of other sites were also shut down briefly today, including Trump.com, Citizens for Trump, and Trump Initiative.
The mild attacks took place after the hacktivist group claimed it wanted to simply poke Trump and reveal more of the non-politician-politician's "fascist" tendencies, not so much deal a crippling blow to his internet data and privacy.
Anonymous published Trump's phone number and social security number on March 15, and Trump's reaction was to call for the immediate arrest of the members. However, Anonymous claims all that information had been available online since 2013 and they didn't have to hack anything to get to it.
"Trump wants to turn America into a fascist dictatorship where anyone can be arrested for just posting old information online," the group declared in a followup video.
It also seemed earlier today that a leading Anonymous news Twitter account was accessed by Trump-supporting hackers, but that escapade turned out to be an April Fools' Day joke.
The faux group calling itself Potato Squad appeared to have taken over the Twitter account @YourAnonNews, and began tweeting messages like "#Trump2016," "n00bs," and "Make Anonymous Great Again," as well as random GIF and videos of potatoes.
It's clear Potato Squad supports Trump.
The group isn't afraid to reiterate Trumpisms.
The hackers used Arabic to get across a message that is either deeply anti-Muslim or supporting notions that Trump's policies have actually helped Islamic extremists. But given the group's faked support of Trump, it's likely they meant the former.
The owner of the account eventually admitted it was all a joke for good old All Fools' Day.