Why the FCC's Midnight Bipartisan Deal Fell Apart
"This agency represented the worst of government," Ajit Pai said.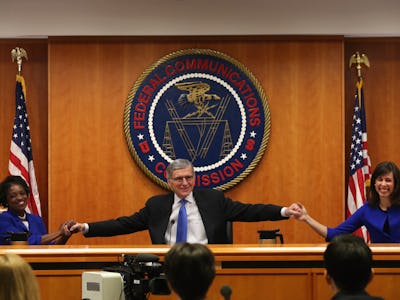 Mark Wilson/Getty Images
Those who tuned in at 10:30 a.m. today for the FCC's live-streamed meeting on affordable broadband got jazzy elevator music and a static graphic showing the date. It wasn't until three and a half hours later that the commission finally came together and passed the proposed expansion of its Lifeline communications subsidy plan, as expected.
The new Lifeline broadens the Bush-era affordable cell phone program to low-income families in need of broadband internet, at the same price of $9.25 per month.
The reason the meeting started late? As the commissioners detailed in prepared statements for the meeting, Democratic and Republican commissioners abandoned a last-minute budget deal between the two sides.
Republican Commissioner Ajit Pai, who had led a motion to create a concrete budget for the expansion of Lifeline, appeared to have sewn a last-minute deal with the other members, but was surprised this morning when he learned Democrats had walked away from the hard-lined budget.
"The common thread of my work for many years has been common ground," Pai said in his public dissent. "I believe it exists and with just a little work and will we can find it. So it gives me no pleasure to state the obvious this afternoon — This agency in this proceeding represented the worst of government."
Pai made his plan public a week ago, and while it's not totally clear what the compromise would have entailed, the main point of disagreement seemed centered around creating a strict budget.
Democrats, such as Chairman Wheeler, were quick to point out that this program has never had a firm budget and has always been open to expansion upon need. But this proposal, for the first time, does set spending at $2.25 billion.
Although the Commission will be notified when 90 percent of spending is reached, Republican Commissioner Michael O'Rielly said the problem is that the FCC can still decide to keep spending past the proposed budget.
Still, Democrats must have believed the fraud protections and waste abuse preventions presented in the new Lifeline will be enough to prevent the budget from going over, which is why the majority (three votes to two) decided to push it through without bipartisan support.
Democratic Commissioner Mignon Clyburn has led the deal through to its passage today.
"There are issues that are worthy of agonizing over," Wheeler said in his statement. "Sometimes, however, the deliberative process does not need consensus in the end, but that doesn't mean it's not worthwhile."