Jay-Z's TIDAL Will Add Movie Streaming, Cuz Why Not
The hard-pressed streaming service will start offering original films about its signed talent.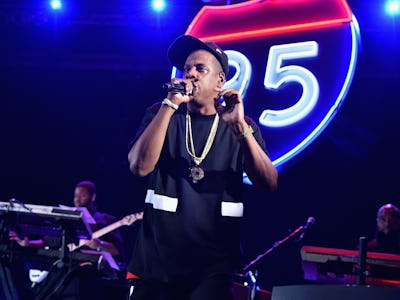 Getty Images/Theo Wargo
Despite all of the criticism TIDAL has garnered, Jay-Z's music streaming service won't go down without a fight. Sources confirm the beleaguered company plans to take on video streaming services like Netflix, Amazon, and Hulu by offering original films to subscribers.
One source said, "The movie service will feature original content as well as acquired films. Tidal hopes to work with an indie studio or producer on a partnership to create original movies." While acquired films will be included, the development is angled in the original films direction — starring talent signed to TIDAL. TIDAL has already requested Apple's permission to add the service, which could be up as early as June. Talks with Weinstein Co. and producers like Irv Gotti are already underway to acquire original movies for the TIDAL, which celebrates its one year anniversary this week.
Since its launch, TIDAL has faced endless obstacles in its mission to successfully rival other services like Spotify and Apple Music. Not only has it botched a few major album releases, but there were even rumors that Jay-Z would hand it over to Samsung, although TIDAL insiders report that those claims are false. It was announced this week that Kanye West's latest album The Life of Pablo, was streamed 250 million times in its first ten days, which may be one of the only bits of positive press the service has earned. The exclusive release of TLOP on TIDAL galvanized many to subscribe to the service, but most cancelled their subscriptions after their free trials expired. The original films may be what the service needs to boost subscription numbers.