Air Force Says Names for B-21 Bomber Are Pouring In, Just Make Them Thoughtful
"Bomby McBombface" and "Plany McPlaneface" might not make the cut.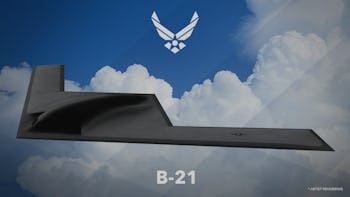 www.af.mil
An Air Force official says the suggested names for the military's futuristic B-21 bomber are coming in, with a little more than a month left in the period where anybody can suggest what it will be called.
While the Air Force has been clear to say these are merely suggestions for the process, the British Navy learned a swift lesson about leaving the naming of new vessels completely up to the often-not-so-kind people of the internet when its 200 million British Pound science research vessel looked like it might be named "Boaty McBoatface."
Now, the Air Force is in a similar situation with fan-suggested names such as "Bomby McBombface" and "Plany McPlaneface," monikers which are making the rounds on Twitter for the new B-21 bomber.
But this isn't a straight popularity contest to definitively pick the name — it takes a little more effort to apply.
There are more barriers to entry for the B-21, though. For one, there's a submission form, and it requires that the name for the new bomber consist of just two words and that entrants submit a 200-word essay justifying the naming. One must also be a member of "U.S. Air Force active duty, Air Force Reserve, Air National Guard, U.S. Air Force Civil Service a U.S. Air Force retiree or any one of their dependents." Unaffiliated civilians need not apply.
Someone meeting those qualifications could still submit "Stealthy McStealthface" but ultimately the Air Force could, and likely would, decide against that.
Michele Rollins, public affairs operations chief at Air Force Global Strike Command, says there are a lot of submissions still coming and she encourages people to continue to turn in those thoughtful forms before the May 6, deadline.
In the meantime, people are of course bypassing the process and letting their voices be heard on social media, whether or not they meet the stated requirements.
One user turned the Snoop Dogg and Pharrell Williams' classic into a grim name for the plane.
Some tried to make a prediction about the future president who might command its power.
Or it could be named after our current president.
There's a fitting metaphor here for the winning number in Blackjack.
Inevitably, many turned it political.
And many more iterations on Blanky McBlankSomething.