Think Tasers Will Ever Be Banned? Not If Wall Street Has Its Say
Taser International, Inc.'s stock price over time is telling.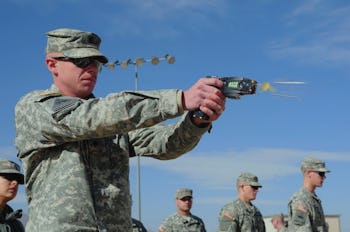 Christopher Smythers
"The eyes of fear want you to put bigger locks on your door, buy guns, close yourself off. The eyes of love instead see all of us as one." -Bill Hicks
What if a publicly traded company's ticker history could serve as an indicator of the zeitgeist's emotional state?
It would be a sort of EEG For Feelings, tracking the mood of humanity's collective unconscious as it vacillates between variations on love and variations on fear, in response to news items and changing times. The stock price of Taser Interactive, Inc. makes an interesting case study.
Taser is the company that manufactures conducted electrical weapons, as well as body cameras and computer software, but the company's name is largely synonymous with its weapons.
These "stun guns" are used to righteous end in saving one's life from an attacker, and to abhorrent end when they are abused by law enforcement. The Taser product touches on a wide spread of human emotional cues, and on a ten year chart, the company's stock price has ranged from three bucks to the mid-thirties.
There are a few steep climbs in stock price of note, among them August 2013, August 2014, and April 2015.
In August 2013, investors bet big that the company's new body cameras for law enforcement would pay off sweetly, and Taser stock jumped 30 percent.
In August 2014, the popular theory was that the protests in the wake of the death of Michael Brown sent the stock price 28 percent higher.
The final jump of note rounded out the first quarter of 2015 on the continuing success of the body cameras.
While there are certainly relevant business developments to pinpoint for the timings of these boosts in value, external issues can also play a role in the turning tides of a stock's price. Incidents of gun violence are statistically occurring every day, but these timings remain in line with lesser-publicized but still-severe mass shootings cropping up across the country. Four dead in Texas. Four dead in Florida. Seven wounded at a Spring Break party in Florida.
News items of this ilk make us feel unsafe, and those feelings can influence our purchase decisions. When citizens feel unsafe, they buy defense tools. When cops feel unsafe, their departments buy body cameras.
Taser stock is lately holding at $18, and analysts call for it to rise to $26 within a year.
Make of this predicted surge in price what you will. Just be sure to double-check that your doors are locked.