First Trailer For 'Deepwater Horizon' Drowns Mark Wahlberg in Mud
Mark Wahlberg, Kurt Russel, John Malkovich are all in deep trouble in the first trailer for Peter Berg's 'Deepwater Horizon'.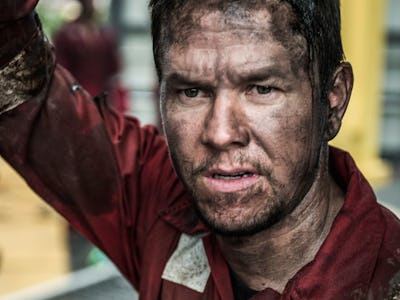 YouTube.com
The first trailer for Deepwater Horizon released today, bringing with it the promise of another apolitical real world romp from director Peter Berg. The film tells the story of a 2010 explosion on board the eponymous deep sea drilling platform, which led to an ecological catastrophe that ranks as the the largest marine oil spill in U.S. history.
To make such a depressing topic palatable, the guy who brought you Friday Night Lights is going to throw Mark Wahlberg and an all-star cast into the belly of that nightmarish situation.
Working from a script from Matthew Michael Carnahan (World War Z), the first taste off this eco-thriller sees Wahlberg getting a very basic lesson in deep sea drilling from his young daughter, juxtaposed with shots of the inevitable disaster. Along the way, the trailer subtly touts a strong supporting cast in Kurt Russell, John Malkovich, Ethan Suplee, and Kate Hudson.
The film will mark the second in a planned trio of collaborations between Wahlberg and Peter Berg. The duo last worked on 2013's well-received Lone Survivor, the true-ish of a small squad of Marines scrambling for the border after an assassination attempt gone wrong. For better or worse, Peter Berg has a real knack for film's that forego politics in favor of celebrating the people who lived through the events.
While some people might hope to see some kind of finger-wagging complexity from a film about a giant oil spill, if Berg's filmography is any indication audiences can expect a fairly straightforward story of blue collar heroism. Which isn't necessarily a bad thing.