These Official 'Batman V Superman' Doritos, Dr. Peppers and KFC Just Hit the Shelves
If you want to eat like a superhero, you probably shouldn't have any of this.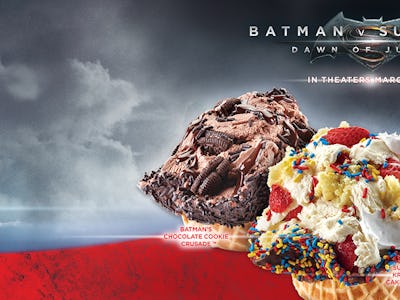 Want to get buff like a superhero? You shouldn't eat ice cream and fried chicken, then. And yet, all of the licensed food products for Batman v Superman: Dawn of Justice are exactly that: fat and sugar-loaded gut-busters. which makes sense, given the diet of your average comic book fanboy.
With a trove of deliciously disgusting treats, including Doritos and coma-inducing sundaes, the marketing department for Warner Bros. has targeted your typical fast food products that take to Superhero branding quite easily.
First, the Doritos. Instead of making new flavors, Frito Lay just photoshopped Batman and Superman onto the packaging of the regular Nacho Cheese and Cool Ranch. Yawn.
(P.s. Cool Ranch 4 life)
Next, another food that's easy to graph some beautiful people dressed as comic book characters onto: Dr. Pepper! Again, no custom-flavors, but you do get Batman shaming you as you suck down all that sugar.
Over at Cold Stone, you can order absurd sugar monstrosities that will definitely not make you stronger, even if they don't kill you. There are three flavors: Batman (Chocolate Cookie Crusade), Superman (Kryptonian Cake Sensation), and Wonder Woman (Strawberry Warrior), and each comes with a collectible ring.
If you're willing to fly out to the Philippines, KFC has some exclusive collectible cups and buckets branded with the Bat and Man of Steel. According to Chew Boom, the four limited edition tumblers run for P140 or approximately $3 while the whole meal with the collectible bucket runs P620, or $13.30. These are not available on eBay yet.
Speaking of flights, the menus on Turkish Airlines are literally themed after the film. Actually literally.
And of course, breakfast cereal. One of the true legacies of the Reagan administration, it's practically an American tradition that cereals have superheroes on them and Batman v Superman is no exception.
The winner of the advertising jackpot here is General Mills, who have produced some limited-run Batman v Superman cereals: Batman's Chocolate Strawberry Cereal and Superman's Caramel Crunch. There's also no artificial flavors or high fructose corn syrup, which qualifies them as health food in the context of this list.
And now, for a real meal. The Alamo Drafthouse chain will serve a very specific Batman v Superman menu that's making me drool over my keyboard, and believe it or not there's actual thought put into every dish. Just check this out, with descriptions from Alamo Drafthouse chef Brad Sorenson:
From left to right:
"Versus Wings"
"Both Gotham and Metropolis are located in the North East and have a heavy Italian influence, as you can see in their respective comics. This led me to using Italian flavors as the inspiration for these fried chicken wings. Batman's is a deep dark reduction of balsamic to represent the Dark Knight. For Superman, I liked the term "Heat Vision" and so i approached it as an Italian influenced spicy sauce with a base of roasted red peppers and tomato. Black Vs Red. Dark Vs Light."
"Doomsday Pizza"
"I took the imagery of Doomsday as the influence for this pizza. He is a greyish blue color with sharp edges. That led me to using a blue cheese cream as the base for the color of doomsday, with the garnishes being jagged and rough. Potato that is torn instead of cut, mushrooms, and arugula all add to its edges and round out the flavor."
"Ma Kent's Meatloaf"
"It started off with thinking about 'meatloaf night' at the Kent's while Clark was growing up. I grew up in the midwest, too, so I borrowed some of the themes of my family's meatloaf nights. Had to have corn and potatoes, and definitely had to have my mom's chili glaze. For this one I just really tried to make a sandwich that would make Superman think of home."
"Kryptonite Cheesecake"
"There is a scene in the trailer that shows Lex Luthor leaning in close looking at a glowing rock of green and black. I wanted to figure something out that could represent that image of a rock of kryptonite. The color green made me lean towards a mint dessert before I came up with scooping balls of free form cheesecake and dusting it with dark cookie crumbs to give it a more rugged real feel."
And the two drinks: "Superman's Punch" (far left) and "The Utility Belt" (far right).
So uh, anyone hungry?
Batman v Superman: Dawn of Justice releases everywhere on March 25.