Uber and GrabCar Are Made Illegal in Indonesia After Violent Protests
Taxi drivers claim mobile companies aren't as regulated.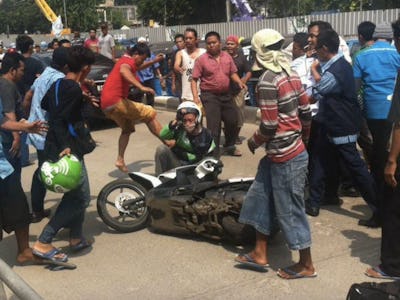 Joko Anwar/Twitter
Taxi drivers in the Indonesian capital of Jakarta took a violent stand today against Uber and other app-based ride-hailing services.
Taxi, bus, and bajaj (three-wheeled scooter) drivers congregated in the already crowded streets of Jakarta to protest mobile ride-hailing companies and their independent contractors. The protesters — many of whom wore uniforms of Indonesia's largest taxi company Blue Bird Group — claimed that the mobile ride-sharing apps aren't regulated by the same laws as other transportation, which puts established companies at a disadvantage.
Around 10,000 members of the Indonesian Land Transportation Drivers Association planned to march into government buildings to convince government officials to ban app-based transportation. But the protest turned violent as dozens of taxis blocked major roads, and drivers ripped non-protesting drivers from their vehicles and physically assaulted them. Angry demonstrators wrecked windshields with rocks and sticks and smashed side-view mirrors of not only the companies they were protesting against, but also drivers who continued operating rather than joining in the protest.
Uber, along with GrabCar and Go-Jek, have made a splash in the Indonesian market in the past two years. Jakarta is a city of 10 million people, and is known for stand-still traffic and a lack of rapid transit infrastructure. Cheaper costs and greater convenience of app-based transportation has brought people to the companies in droves. Yet they are largely unregulated and are not required to have the same licenses and do not pay the same state taxes as traditional taxi drivers in Indonesia, nor do the independently employed drivers have to pay for an annual transport permit.
Jakarta's governor, Basuki Tjahaja Purnama, came out on the side of the traditional transportation companies last year when he asked police to arrest Uber drivers. Uber, on the other hand, said that Indonesian law allows them to operate in the country, and Indonesia's communications minister, Rudiantara, sided with Uber. Rudiantara refused to ban any mobile transportation apps after a protest on March 15 because a ban would be a blow against Indonesia's growing digital economy.
But after the destruction following today's protests, the Indonesian Transportation Ministry has made Uber and GrabCar illegal. To begin operating again, the companies must become a car-rental business and get licenses as public transportation operators, pass driving tests, and be covered by auto insurance. If the services want to operate as an alternative to a taxi service — like Uber does in the United States — drivers have to use a taximeter that is in line with the government-regulated fare.
Indonesia isn't the only country who has seen backlash against Uber and its ilk. Taxi drivers in France attacked Uber drivers and their cars last year, and there's a healthy list of cities and countries that have fully banned and partially banned Uber from Eugene, Oregon, to Cape Town, South Africa.
Things are a bit more physical and crowded on the streets of Indonesia though: