French Taxi Drivers Are Setting Traps for Uber Drivers
Watch out on the mean streets of Marseille.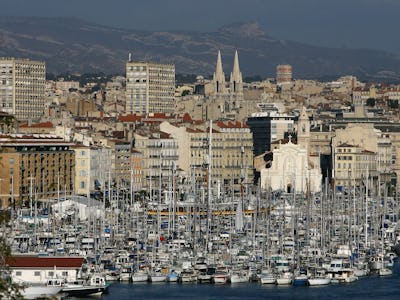 Getty Images
For all Uber's well-documented scumminess as a company, you have to applaud its business plan, ripped right from the best of life advice: tis better to beg forgiveness than to screw around with legal permitting. This approach has managed to rightly piss off cities and established taxi services (who do not appreciate the disruption) pretty much everywhere, though perhaps nowhere more so than France. There existing taxi drivers are apparently luring Uber drivers into mobs before vandalizing their cars, intimidating them, and in at least one case, slapping a raw egg against a driver's noggin (8:00 in the video below).
France 24 unpacks the situation thus: Uber's French service, UberPop, has been banned since the beginning of this year. It continues to launch services in new cities anywho, and when it started in Marseille, the local taxi drivers used the app to summon drivers and get very much in their faces. "Taxi drivers positioned their vehicles in strategic locations throughout the southern city — including in front of the main police station, where they called on the police chief to crack down on UberPop," the news service reported. "An informational and recruitment meeting being held by Uber at a hotel had to be cancelled when dozens of taxi drivers blocked the entrance and barred potential candidates from entering."
This, ultimately, may be the limit of Uber's cavalier forays into cities/states/countries/planets that for whatever reason (including entrenched cartels of drivers) try to keep the service out. I have no doubt that Uber has the funds to fight such battles in courts and legislatures. But I do wonder how long new drivers will continue to make rounds when it's one against the mob.