Why Target Belgium? For Terrorists, the Answer Is Complicated and Nuclear
The Tihange nuclear power plant has been evacuated following the Brussels attacks. There's a reason.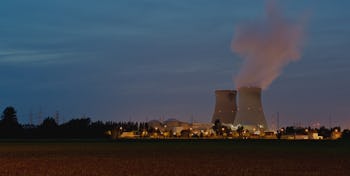 Next Generation; Flickr
Brussels was locked down on Tuesday morning after three bombs ripped through the airport and subway, killing at least 34 people and wounding more than 60. But authorities weren't concentrating all their efforts on reacting to the tragedy in the city. Authorities evacuated the employees of the Tihange nuclear power plant, located 40 miles off the German border, following the first reports of the attack. It was not immediately clear if the evacuation was ordered in response to a direct threat, but Belgium's aging nuclear infrastructure has long drawn concern from security experts around the world.
Belgium currently operates seven nuclear reactors, though, due to their age, one or two are usually down for maintenance. The reactivation of the Doel 3 reactor in January marked the first time in almost two years that all seven reactors were operating at the same time. Both Tihange, built in 1975, and Dole, constructed in 1969, have brushed up against the end of their original operational lifespan, and Belgian authorities have pushed their retirement dates back to 2025. The German environmental minister even staged an intervention regarding the plants' decrepit state back in January, offering technical assistance to bring the situation under control.
Belgium has responded to the threats posed by the recent wave of terrorist attacks with stringent measure. The city was locked down for four days last November while authorities conducted raids against suspected extremists. Last week Brussels authorities finally apprehended the alleged mastermind of the Paris attacks.
The heavy security presence would clearly seem justified in the wake of Tuesday's attacks, especially because Belgium's aging nuclear power plants pose a threat to all of Europe. In fact, partly due to security fears, Germany has committed to decommissioning its last nuclear power plant by 2022. Their investments in other types of clean energy have made the risk of maintaining nuclear power gratuitous.
Belgium remains heavily reliant on nuclear power to reach its clean energy goals under the Kyoto and Paris protocols, and support for the programs remains high. Some areas in Belgium even obtain as much as 50 percent of their energy from nuclear power. Despite the current old age of Belgian nuclear power reactors, the country has no plans for new plants once the current facilities expire.
Even with strong support for nuclear power, Belgium has struggled to adopt a policy to guide its future development. Political turmoil as well as the Fukushima nuclear disaster in Japan have delayed efforts to reach a consensus on the future of nuclear power. The recent attacks may not weaken Belgian resolve, but they do serve as a stark reminder that even some of the toughest crackdowns in Europe are not guaranteed to catch terrorists before they attack.