We Want Another Adam Sandler-Drew Barrymore Rom-com So Bad We've Written Pitches For 6 Of Them
We demand a Netflix exclusive follow-up to 'The Wedding Singer', '50 First Dates' and 'Blended'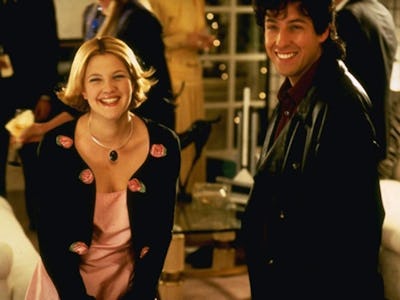 Many cultural theorists have tried to analyze the disturbing decline of Adam Sandler's career, but what they overlook is the important role that Drew Barrymore has role in his art.
Sandler began peddling his overgrown-boy routine as a comedian on Saturday Night Live, charming TV audiences with his wide-eyed and earnest performances. He was unapologetically adolescent in a way that his contemporaries on SNL, Jimmy Fallon and Andy Samberg, have built their careers imitating. Sandler was a good-hearted Jewish boy with an awkward erection, and he broke out of SNL with two goofy films built around his persona: Billy Madison and Happy Gilmore. But he didn't become a romantic leading man until Drew entered his life.
He found his perfect counterpart in 1998, when he cast opposite Barrymore, an overgrown child herself, in The Wedding Singer. Barrymore was the girl Sandler's mother would have dreamt up for him; she found his mania endearing, and she could make grotesque faces back at him. When Sandler's Robbie Hart sang his beautiful "Grow Old With You" to Barrymore's Julia Sullivan, we believed in their shared fantasy.
The song's dream of domestic function — "I'll get your medicine when your tummy aches / build you a fire if the furnace breaks" — was romance to both Sandler and Barrymore's onscreen personas. Coupled with the film's funny cameos from Steve Buscemi and Sandler's growing posse of comedians, The Wedding Singer's central love story felt truthful. It was clear both he and Barrymore got something irreplaceable from each other.
In 2004, Sandler returned to Barrymore's side for an underrated rom-com: 50 First Dates. The film's conceit is characteristically goofy and far-fetched: Barrymore's Lucy suffered head trauma and forgets everything she's done after 24 hours have passed. Immature playboy Henry (Sandler) falls for Lucy and has to work for an adult, sustained relationship for the first time in his life. It wasn't better than The Wedding Singer, but aesthetically and in scope, it was brighter, larger and more hopeful.
Though Sandler and Barrymore did make a third romantic film together in 2014, Blended suffered from too many Sandler-style pratfalls, CGI bits and toilet humor punchlines. The film's only highlights were Barrymore and Sandler's performances, which, against all odds, shone through with that same earnestness, though both actors had aged ten years. In 2014, Sandler's troubled, perpetual teen-schtick had lost its charm, and Barrymore's character had only Sandler's crankiness to mirror.
Now that Sandler has signed a multi-film deal with Netflix, he'd benefit immensely from making one more heartfelt film with Drew Barrymore, something as elevated and honest as his turn in Funny People, another unpopular Sandler film which I vehemently enjoyed. I've put together a list of Barrymore/Sandler rom coms I'd be overjoyed to see released on Netflix.
Made ethereal and trippy by Michel Gondry
We know Sandler can do hallucinatory dreamscapes. He was the central character in Paul Thomas Anderson's Punch-Drunk Love, and was likable enough to carry 2006's Click over the finish line. Barrymore, on the other hand, deserves another shot at being a character actress. She was fantastic as Josie Geller in Never Been Kissed, and again in Riding in Cars with Boys, playing simple, vulnerable women in both films.
Imagine Barrymore and Sandler, in many ways our contemporary Bogart and Bacall, in a scene like the one in Eternal Sunshine of the Spotless Mind when Jim Carrey repeats, "you're pretty, you're pretty" to a distraught Kate Winslet, and tell me that doesn't like sound like late-career gold. Set the trailer to Elvis Costello's "I Want You" and you've got yourself an Oscar contender, or at least a beloved cult romance. Stick in a dream sequence that's rendered in stop motion, and man, you'll have contemporary film geeks seizing in the aisles.
Breathless in a Victorian-era historical fiction
We lost Downton Abbey this year, and no one loves funky costumes more than Adam Sandler! Rather than giving him yet another boys' club Western film, why not ship him and Barrymore off to Victorian-era New York? To appease Sandler's dwindling number of comedy-fans, Netflix could even call it a spoof of Gangs of New York and give Joseph McGinty Nichol (director of Charlie's Angels) the reins. Sandler could even die in the end and surprise audiences with a legitimately heart-breaking twist ending!
Cleaning blood off each other in a horror comedy
Netflix is currently streaming two of the best horror comedies ever made: 2014's Housebound and 2010's Tucker and Dale vs. Evil. Sandler demonstrated his willingness to play around with monsters in his Hotel Transylvania films, which are better than one might assume.
Why not round up the gang the way he did in his Transylvania animations — Kevin James, Steve Buscemi, Andy Samberg, David Spade and Jon Lovitz — and have Sandler's vampire fall for a human woman (Barrymore)? Barrymore could be the film's Sigourney Weaver as she was in Ghostbusters, controlled, attractive and possessed by a demon.
Film it as over-the-top live action, throw in some fantastic practical effects and gore to satiate horror fans, and let Sandler exaggerate his mania to near-scary levels. It could be the male-driven Ghostbusters homage so many sexist fans wanted. Would Edgar Wright be interested in producing?
Voicing two animals in a LAIKA or Studio Ghibli picture
Studio Ghibli lost its genius when Hayao Miazaki retired, and it's been struggling to recapture some of Miazaki's magic ever since. Sandler could easily pull off a vocal performance the way Christian Bale did as Howl in the English-language version of Miazaki's Howl's Moving Castle, and Drew's got a perfect voice for one of the studio's dauntless heroines. Pairing Barrymore and Sandler in an animated film would allow Netflix to avoid addressing how they've aged; they could play characters as pure as Julia and Robbie in The Wedding Singer, bound together by their audible chemistry.
If Studio Ghibli is too far of a reach, a Boxtrolls-style romp, produced in partnership with LAIKA would be just as satisfying. The company which gave us Coraline and the upcoming Kubo knows how to write children. Barrymore and Sandler could capitalize on their inherent immaturity by voicing two children swept into a supernatural disaster.
In a dark, seering White House comedy
Netflix hammered together House of Cards based on the statistics of its viewership. That is, the company realized after a few years of streaming that people love dysfunctional political stories, almost as much as we all love Kevin Spacey playing creeps.
I can easily see Sandler playing an overworked communications director to Barrymore's senator; they could bicker and have sex outside the public eye, fitting in as much physical comedy as HBO's Veep does every season.
Rebooting a classic rom-com
The Wedding Singer, where Barrymore and Sandler began their romantic orbital pattern, was, at its core, a classically styled romance which owed its plot and signifiers to films like Douglas Sirk's All That Heaven Allows. Much of the film's drama occurred in secret moments, behind closed doors, and it wasn't trying to uproot or satirize the tropes of the genre: weddings, love at first sight, redemption through monogamy.
Douglas Sirk himself would have loved Sandler and Barrymore, both actors almost too bright and expressive for the screen, both actors who would have succeeded in theater's golden age. A contemporary director, perhaps Baz Luhrmann, our modern bright-color-addict, could find artistic catharsis by placing Barrymore and Sandler in a straight-forward romantic comedy reminiscent of the classics: It Happened One Night, Pillow Talk, and Sabrina. Remaking Pillow Talk, specifically, shot for shot, would allow Sandler to act out Rock Hudson's funny songs, which his character writes for every woman he romances. Netflix wouldn't even have to hire a big screenwriter; just hire some new kid, tell him to recreate Pillow Talk and add in some sight gags to keep Sandler happy.