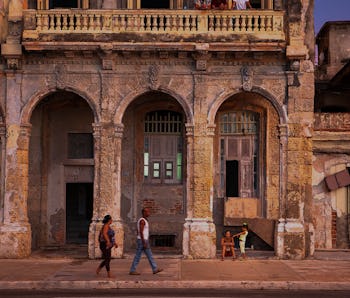 Science
Now Anyone Can Stay at an Airbnb in Cuba
While Obama visits Cuba, the U.S. Treasury allows Airbnb Cuba to accept non-U.S. guests.
Angelo Domini/Flickr
It's been a good couple days for United States and Cuban relations. On Sunday, the U.S. Department of Treasury announced that American-owned Airbnb hosts in Cuba can now take in travelers from across the world. Airbnb Cuba's expansion coincides with President Barack Obama's three-day visit (the first sitting United States president to visit in 88 years), strengthening political ties, loosening economic tensions, and supporting internet ventures. Except for food and medicine, this marks an end to the 50-year block of U.S. trade with Cuba.
The expansion to non-U.S. travelers is a big deal for the home-sharing company, which launched Airbnb casas in Cuba in April 2015. At the time, the hosts could only let Americans stay, the limitation contrary to the company's mission.
"Airbnb was built on our belief that you can belong anywhere," said Airbnb co-founder Nathan Blecharczyk. "In less than a year, this has proven true in Cuba with more than 13,000 guests from each of the 50 U.S. states. Now, we will be able to offer the same belonging to travelers from any country, while doing our part to preserve what makes Cuba so special and unique."
Starting April 2, 2016, anyone from around the world can stay in one of the nearly 4,000 Airbnb casas in cities across the island — up from the initial 1,000 in 2015. Airbnb's market in Cuba is one of the fastest-growing in the world, hosts attracting more than 13,000 guests from the United States and earning about $250 on average per booking in the past year. A quick skim through the current listings shows most places range between $30 and $60 per night. You can traverse the streets of Downtown Vedado and Old Havana from a garden oasis, or take refuge in a house five minutes away from the beaches of Santa Marta.
Airbnb announced when it first offered its services in 2015 that it believes the company's presence in Cuba will help economic growth:
"Because we're building on the rich Cuban tradition of home sharing, we're uniquely positioned to help Cubans reap the rewards of economic growth while preserving their unique culture. When Airbnb guests stay in local neighborhoods, they bring business to surrounding entrepreneurs — whether they be hosts, artists, or even ice cream shop owners."
In addition, to Airbnb, American hotel companies Starwood Hotels and Marriott International also have permission to offer accommodations in Cuba.