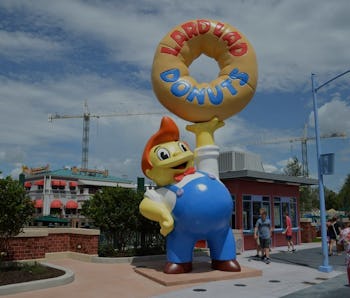 Science
Your Favorite Cartoon Foods Are Now Available to Eat IRL
A list of some fictional fixings that are just as delectable as they look on screen
Universal Studios
Sometimes, two-dimensional food can look so good that I consider teleporting myself into the television to eat it. Luckily, instead of concussing myself by diving head-first into my home electronics, opportunities to eat these cartoon treats are growing by the day.
Check out this menu:
'Bob's Burgers Burger Book: Real Recipes for Joke Burgers'
If there's one thing we can look forward to —outside of the usual ridiculousness of the Belcher family — it's the Burger of the Day. Runny Out of Thyme, Chard to a Crisp, and Fig-eta Bout It are just a few of the clever pun-tastic selections that you can order at the restaurant.
And on March 22, you can start making them yourself. Cole Bowden, blogger and creator of the recipes within the book, started the "The Bob's Burgers Experiment," which is a blog dedicated to replicating the Burgers of the Day.
Loren Bouchard, creator of Bob's Burgers, heard about blog and teamed up with Bowden to create Bob's Burgers Burger Book: Real Recipes for Joke Burgers.
Reptar Bar
As a kid, not only did I want adventures and to do what a baby's gotta do, but I also wanted one of these bad boys. One, because Reptar is amazing; and two, they turn your tongue green!
A solid two decades after the show ended, the weekly YouTube and Rocketjump cooking show Feast of Fiction, which makes fan-requested items from fictional worlds into real meals, actually made a Reptar Bar. They even produced the same packaging as the show for everyone to download and print out.
But even if Reptar Bars don't excite you, Feast of Fiction has a ton of other options, with over 100 episodes. If you want a Nuka Cola Quantum from Fallout or Kronk's Spinach Puffs from Emperor's New Groove, they've got you covered for anything in between and beyond.
'Eating Ooo'
Come on and grab your friends, because this fan-made cookbook has all of the fixings of the fantastical Land of Ooo in Adventure Time, including Jake's bacon pancakes and the Everything Burrito. There are also cute character-inspired creations, like making Gunther with eggs and olives.
Because this book is also not officially associated with the show and is strictly fan-made, there are a lot of cool fanart pieces scattered throughout the pages, so even if you don't pick up the book for the food, you can still appreciate the artwork.
Anything from The Simpsons
At Universal Studios in Florida, if any place or food from Springville made your imaginative tongue salivate, then head over to Universal Studios and pop open a Duff beer at the brewery or Moe's Tavern. Or, if you have a sweet tooth, drool over one of Lard Lad's donuts that Homer is known to eat continuously. It's all there, from Krusty Burger to Kwik-E-Mart.
Krusty Krab
I'm sure most people who have watched SpongeBob Squarepants have also yearned to try Krabby Patties – and now you can! Although this may be a little difficult location-wise, there is still a restaurant in the Palestinian city of Ramallah, designed to look exactly like the Krusty Krab from Bikini Bottom.
This restaurant is actually called Salta Burger and it's located on the West Bank. It opened up two years ago in July and is still open – and hopefully for a while longer.
So hopefully these options are, indeed, as tasty as they look. I sure think so!