Why Congress Actually Wants to Give NASA More Money
The president's budget doesn't go far enough, they say.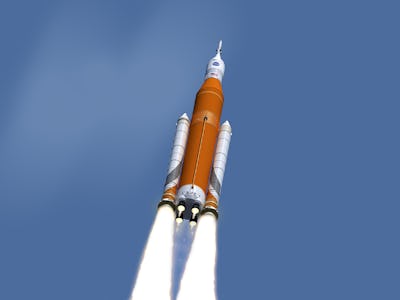 NASA
An unusual bipartisan coalition of House lawmakers are trying to boost NASA's 2017 funding well above what the president called for in his budget request.
The president's $19 billion budget for NASA cut the space's agency funding by $300 million compared to its 2016 appropriation. When NASA Administrator Charles Bolden came before the House Appropriations Subcommittee on commerce on Tuesday to testify on the budget, both Democrats and Republicans pledged to override the president and fully fund the Space Launch System (SLS) and missions to Jupiter's icy moon Europa.
"This is not a partisan issue. It's about a national priority," said Representative Mike Honda, a California Democrat and the subcommittee's ranking member. "I share my colleagues' frustrations with this year's discretionary budget from the president that recommends scaling back our support for NASA."
The president's NASA budget makes its largest cut in funding for deep-space research. The $800 million proposed saving would amount to a 20 percent annual reduction. The budget also cuts more than $100 million from planetary sciences, leaving a total $1.5 billion, including funds for a Mars rover set to launch in 2020. The proposal would boost Earth sciences research by $110 million.
The Space Launch System, a new Space Shuttle-derived launch vehicle, would receive only $1.3 billion in funding, nearly 35 percent less than its 2016 appropriation. Despite skepticism from the lawmakers, Bolden insisted that the cut would not affect the agency's ability to make target dates for the first launches of the SLS.
"2023 is the date to which we committed, and we'll make that date on the president's submission for 2017," Bolden said. "If we get more money, we will buy down risk, we will do long-lead items, and we believe that would enable us to launch some time earlier."
The subcommittee meeting put the NASA director in the strange position of supporting cuts to his budget against lawmakers who were arguing he should have more money to spend. At one point, Bolden even reminded the Committee that he did, in fact, support the budget proposal.
"I think you mischaracterized me when you say I am disappointed in the president's budget," he said. "I am not. I helped to craft it, and I'm very proud of it."
There's good reason to think NASA will end up with more funding than the president envisioned in his budget. Obama proposed only $18.5 billion for NASA in 2016, but the agency received a $19.3 billion appropriation from Congress. It's not clear why the president consistently aims to undershoot Congressional opinion on funding NASA, but the answer may lie with Obama's priorities.
Obama's budget proposal calls for $2 billion in funding for NASA research into climate change. Many Republicans in the House are deeply critical of NASA receiving this level of funding to support science many of them and their constituents doubt. So it's a lot easier for Obama to guarantee the funding he cares the most about when Republicans are calling for more money, not less.
Representative John Culberson is a Texas Tea Party Republican, known for keeping a tight watch on the federal budget, and he had this to say about the president's proposal: "It continues to be baffling to us why the Office of Management and Budget refuses to give you the support that we think you deserve. This subcommittee will make sure that you get the resources that you need."