Cannabis Biotech Companies Are Selling High on the Stock Market
The success of one weed-based drug trial sent investors scrambling to buy into the future of marijuana pharmaceuticals.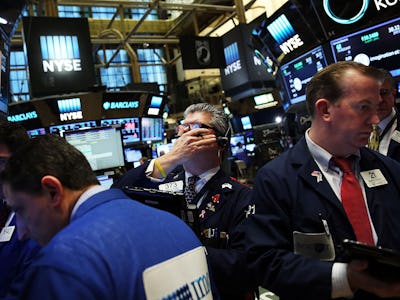 Spencer Platt/Getty
Stock brokers were left scratching their heads on Monday as the value of shares in a little-known company called Cannabis Science Inc. dramatically increased. By the end of day, they were up 120 percent.
The tiny Colorado-based biotech company, which has been quietly rallying to get FDA approval for its cannabis-based drugs since 2009, hadn't done anything particularly newsworthy. The only released statement congratulated a fellow pot-friendly drug firm, the United Kingdom's GW Pharmaceuticals, on its successful clinical trials for Epidolex, a cannabis-based child epilepsy drug. While it wasn't much — it didn't even have anything to do with the company — it was enough to send investors racing to buy Cannabis Science shares.
Thanks to the spread of the legalization of marijuana, dank cannabis is becoming a serious player in the world of big business. Given the sheer number of studies on its medical benefits, its place in the pharmaceutical industry seems especially promising (that is, profitable). However, until Congress rethinks its Schedule 1 classification — it's still a drug with "no currently accepted medical use" — it is probably not going to be raking in the big bucks anytime in the immediate future. But it could happen sooner than we think if the trials of drugs like Epidiolex are successful.
Packaging weed in pharmaceutical form makes it not only more palatable for drug-leery investors but also potentially much more lucrative than the herb itself. Thats why Cannabis Science — the research of which focuses on using pot to treat Kaposi sarcomas, skin cancers, ADHD, and anxiety — has stuck out as a promising bet to investors in light of GW Pharmaceuticals' success.
It wasn't the only one, either: The stock of other weed-based drug firms, like Zynerba Pharmaceuticals and Insys Therapeutics, shot up the charts on Monday as well.
Despite the refusal of Congress to revise its scheduling laws, it appears that investors are optimistic that marijuana's status will change.
In light of Monday's reefer madness, the investment website Moneyshow has directed the finance-savvy among us to put CBD-related stocks on our radar.