How Horror Director Ti West Put John Travolta in a Cowboy Movie and Made it Work
His next project? An LSD-fueled hippie movie because why the hell not.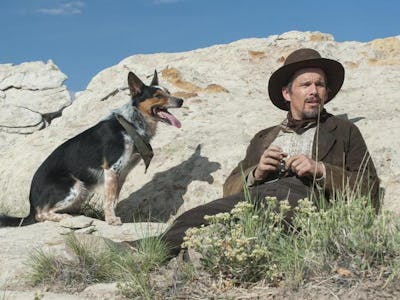 SXSW
Ti West is known for his mind-bending indie horror movies. He's the guy who brought the world V/H/S and The Sacrament. So, when his new movie, In a Valley of Violence was announced, the description puzzled his fans. There was no mention of satanists, haunted hotels, or suicide cults. Instead, there was a blurb about a drifter, played by Ethan Hawke, who finds himself swept into a lawless town in the old west. West was making a western. And John Travolta was going to play a bad-guy U.S. Marshal.
Let's be clear: In a Valley of Violence is a good movie. It's a good enough movie that it almost answers the questions about West's career pivot. But, given the opportunity to sit down with the director at the film's SXSW premiere, Inverse asked some follow ups.
What does it mean to you that this is your fourth movie to premiere at SXSW?
I came here in 2005 at like, 22-years-old, having never been to Austin, never been to a film festival, and having no connection to the film industry whatsoever. I was just be a kid with a backpack who happened to have a movie at the festival. Experiencing it and being embraced truly changed my life. I owe a lot to this festival.
This is the first time you've directed a non-horror film. What made you want to get out of your comfort zone?
I never really thought of it as a comfort zone. You make a horror movie and then it gets a little easier to make more horror movies. But then I made, like, seven horror movies and you start to run out of things to say there. After spending like two years making my last movie, The Sacrament, and the other ones, I wanted to do the polar opposite to sort of cleanse the palate. I thought, 'What is the most traditional cinema I could do?'That made me think, 'Well, I think it's a western?' I didn't say, 'Can I pull this off?' Instead I just said, 'Can I get a western made?' Then I gave it a shot.
Did you have this idea for a western while making your other movies?
I knew this would be a small-budget movie, and westerns are a tricky one to figure out how to do inexpensively. I've definitely had a lot of western ideas over the years, but a lot of them would be too expensive.
I usually have an idea and I think it's great, but then a week later I think to myself, "Uh, I don't know about that." But one usually sticks around, and that's the one I end up making because I feel compelled to do it. This idea is one that stuck around.
How did you maintain the traditional western tone of the movie, but still be surprisingly funny and exaggerated at times?
I wanted to make a movie where all these characters are in this violent western, and when they're faced with actual violence; they're in over their head. They're not really capable of handling it. Everybody in westerns has a certain bravado and ego and [think] they know how to handle everything. They know how to spin the gun the right way and say the lines. It's a very typical thing of the genre, but I wanted to see what happens when the guy that says he's the best at doing something actually isn't, and we stay with it.
I heard you pitched Ethan Hawke the idea for the movie. Was that daunting or did things just click immediately?
So I went to Jason Blum and said I had an idea for a western and told him I thought Ethan would be great in it, and I knew they had a working relationship on The Purge and Sinister. Sinister was a horror movie and The Purge was this kind of sci-fi movie, and and I thought a western would be great for an unofficial trilogy. I pitched the movie to Ethan while he was in New York appearing in Macbeth at Lincoln Center. I told him the gist of the movie, and I said if he didn't like it, don't worry about it, that's on me, but if he did like it let's make this movie.
Could you explain a little bit about the process of working with production company Blumhouse?
A lot of people talk about making movies, but they actually make movies.
Let's talk about Travolta. How did that happen and did you picture him in the role of the Marshal when you were writing the script?
Jason got Travolta, which is so inspired and amazing. I had nobody in mind while writing it, which seems crazy because now that the movie is done, no one else on earth could play that character. I went and had dinner with John after he read the script and liked it, and he just got the movie. The way he talked about the script I just kept asking, 'How do you know what I'm going for so well?' It was just clear he was the right person.
He's beyond a consummate professional. He's this giant movie star, but not when you spend time with him.
I think Taissa Farmiga is the unsung star of the movie. What was it like working with her to develop the character of Mary Anne?
I'd seen Taissa in The Bling Ring and a few other things, and when we sat down to talk she also just totally got it. I really wanted her to be this girl that's a real girl. We're not trying to make her some antiquated person. She's just this person in a boring town looking for a way out, but in a charming way we don't usually get to see.
I love the scenes with her and Ethan bickering, and I love the moment where she's like "Take me away from here!" and he's like, "No, you don't know me!" She'd usually be the hooker with a heart of gold, but she's not that person. She's just stuck in that town and has no way out, and when this new person comes in she thinks, "Maybe I could go off with him." But it's her not doing that, then getting involved in the violence. It's playing with archetypes, and it was fun watching her play with all those layers.
Now that you've done the polar opposite with In a Valley of Violence, do you want to go even further from there?
I wrote a 1960s hippie LSD movie called Far Out that's kind of like Easy Rider mixed with Picnic at Hanging Rock. I'm gonna try to make that next. I have a TV series I created that's very close to horror — it'd be a very scary show. It'd probably take over my life if that happens, but I want to do something longform. What's always been fun about horror to me was the tangential stuff, and TV would be the place to do that. Secretly, I hope it's the hippie movie because it's so weird.