The New Batmobile Is Incredibly Sick and Bat-Like
A production designer takes us behind the scenes of designing and building the newest version of Batman's sick whip.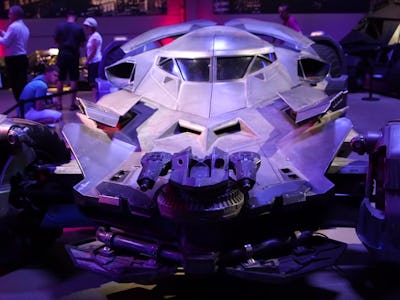 Youtube/DC Entertainment
The marketing campaign for the upcoming Batman v Superman: Dawn of Justice release has been relentless. And rightfully so. The film, which opens on March 25th, joins two of DC Comic's most notable heroes — Superman, played by Henry Cavill, and Batman, played by Ben Affleck. There are already two full-length trailers and a bunch of teasers for the highly-anticipated film — and we've got plenty to be excited about. The only thing more well-known than Batman himself is his sleek, heavily-equipped whip: the Batmobile. Today we heard a bit about the revamping of the vehicle from one of the production designers in an exclusive episode of DC All Access.
In the clip, production designer Patrick Tatopoulos leads us behind the scenes of his process for redesigning the classic, decked-out vehicle Batman is known to ride around in. He starts out by recalling his personal connection to the Batmobile, a car he has always praised for its aesthetic complement to Batman's specifically sleek image. Getting into the logistics of the project, he states that it took five long months to construct two of the vehicles once the designing process was finished. Tatopoulos also informs viewers of how difficult it was to find the right wheels, the surreal experience of seeing Affleck get into the vehicle for the first time, and his main driving goal while designing it: to make every part of the car have "a slight undertone of the subliminal idea of the bat."
Based on the clip, it looks like Tatopoulos definitely accomplished his goal of molding the vehicle's design to the anatomy of a bat. Compared to earlier models of the Batmobile — like the one featured in the 1966 Batman TV series that essentially resembles a fancy Cadillac with red trim — the newest version created by Tatopoulous is much more high-tech and futuristic. The newest model also appears to be much flatter than the boxy and rotund one featured in The Dark Knight franchise, and far more angular and rigid than the rounder model from Tim Burton's 1989 version. If you've seen pictures of the Batmobile in the Batman: Arkham Knight game, then that's probably the most accurate reference point. Only two more weeks until we get to see his newest and incredibly bad-ass model in action.