'10 Cloverfield Lane' is J.J. Abrams' Best Viral Marketing Stunt Ever
Above all else, J.J. sticks to this mantra: the less you know, the better.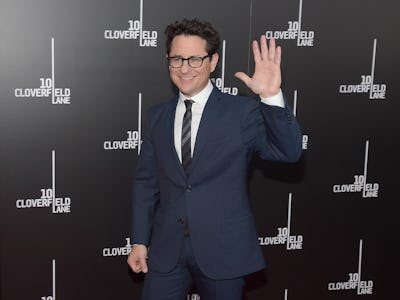 Theo Wargo/Getty Images
Much has been made of debut filmmaker Dan Trachtenberg's upcoming 10 Cloverfield Lane, mostly because of its connection to filmmaker and producer J.J. Abrams. In the short time the movie has been in the public conscience (since the first trailer was released in January), it has befuddled fans and critics alike for its tenuous relationship to the 2008 monster movie that shares its name. Cloverfield and its 2016 blood relative follow-up have embraced an alternative way to market a movie in the current studio filmmaking climate.
Instead of a multi-year lead up and endless updates like, say, the most recent Star Wars movie Abrams directed and co-wrote, Abrams and his production company Bad Robot have simply used the element of surprise and an air of mystery to drum up interest in something the audience knows virtually nothing about. Basically, it makes 10 Cloverfield Lane the best viral marketing stunt ever.
Back in July 2007 when audiences sat in their seats with gigantic tubs of popcorn and bladder-busting sodas at the ready to watch Michael Bay's Transformers, they were treated to a mystery. But the trailer for the unnamed found footage monster movie somewhat overshadowed the bombastic two-hour toy commercial that followed.
The questions poured in: What's the deal with that monster movie? Did you see that scene with the Statue of Liberty head? Did that guy who made Lost really make it? What is it even called!?
It was viral marketing writ large, splayed out across the screen for mass consumption. People were so in denial that it was an original movie idea of such scale, that rumors swirled. It was a new Voltron movie? It couldn't simply be called 1-18-08, could it?
Cloverfield confirmed Abrams's ability to hook people with a single conceit and an enigmatic tag — almost as if he could have sold audiences on merely the idea alone. Come see this found footage monster movie without a name. But what's most surprising about the original Cloverfield is that it made buzz the old fashion way: by getting people talking in an age when big sci-fi CGI sequel extravaganzas are a dime a dozen at the cineplex.
Abrams is the cinematic equivalent of P.T. Barnum. To Barnum there was a sucker born every minute, and for Abrams, there's a sucker born every minute at 24 frames per second.
When Bad Robot realized they had a hit, a sequel inevitably had to be addressed, but what would they do? At the time, Cloverfield director Matt Reeves publicized the most obvious idea for a follow up — using one of the film's key scenes to explain that multiple people could have filmed his movie's monster attack. In 2008 he told IGN, "There's a moment on the Brooklyn Bridge, and there was a guy filming something on the side of the bridge…In my mind that was two movies intersecting for a brief moment, and I thought there was something interesting in the idea that this incident happened and there are so many different points of view, and there are several different movies at least happening that evening and we just saw one piece of another."
While the potential was there, that approach was far too bland, too predictable for the follow-up to a movie that built its success on acute unpredictability. And it took Abrams and his collaborators nearly a decade to figure that out. Only a spiritual sequel, one that vaguely fits within the sci-fi genre anthology idea, could be worthy of a Clover-title.
Abrams had to match a curveball with an even better curveball — it was the expectation he set himself. So he assembled something that kind of resembled Cloverfield, going so far as have Trachtenberg keep the title and the true nature of the movie a secret to even the actors who star in it.
It was intentionally different, and people kind of got that, and accepted it, but the superficial connection to Cloverfield was what really made people take notice. It's an honorable ploy, a sort of if-you-can't-beat-'em-join-'em mentality in making a sequel. Now that the first reviews for the mysterious movie are in, and that continues to be the gist.
In its review The Hollywood Reporter said, "Any disclaimers seem unlikely to assuage longstanding expectations for a follow-up, especially since promos for the film clearly hint at something otherworldly overshadowing the narrative." Entertainment Weekly took a swing at the marketing rug-pull, saying, "It's like a solid Twilight Zone episode or second-tier M. Night Shyamalan movie like Signs."
Abrams is all about alternative marketing, and 10 Cloverfield Lane is the product of that approach. In effect, withholding basically everything about the movie while letting audiences think they have insight, is brilliant, since trailers now largely show entire movies. With 10 Cloverfield Lane the viral marketing was the movie. It's the greatest trick Hollywood has been able to pull off in a long time.