How Dan Trachtenberg Went From Podcast Host to Directing '10 Cloverfield Lane'
Sometimes it pays to go viral.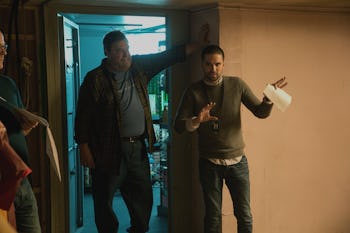 Paramount Pictures
Audiences who saw Michael Bay's 13 Hours probably left the theater more entertained by a trailer that preceded the movie than the movie itself. With zero fanfare, J.J. Abrams' production company Bad Robot released a mysterious clip about a woman who wakes up in a doomsday bunker, captive to a man raving about the apocalypse. The trailer was for 10 Cloverfield Lane, a spiritual successor to the 2008 monster flick Cloverfield. Without warning, fans were denied answers. What was the trailer actually about, and who could pull off such a switcheroo? The answer, it turns out, was one of us.
Director Dan Trachtenberg is suddenly in a position most movie fans dream of. In a sort of internet-infused millennial version of Jean-Luc Godard — going from critic at Cahiers du cinéma to becoming a renowned movie director — Trachtenberg has followed a path of movie geekdom: chatting about movies on the internet with his friends to making movies his internet friends would talk about. And it all started with Revision3.
In the mid-to late- aughts, Trachtenberg built his online cred by molding a few different series on Revision3, the network of shows about geek-friendly niche topics. In 2006, he directed a cooking comedy show called Ctrl Alt Chicken, featuring media personalities like Alex Abrecht cooking recipes without really knowing how. He also co-hosted Geekdrome, a sort of precursor to the well-loved pop culture series called The Totally Rad Show he co-fronted with Albrecht that made waves in internet fandom circles.
Founded in 2007, The Totally Rad Show was a video podcast whose inclusive DIY charm attracted a large following for five years before its end in 2012. A sort of pop culture panoply, The Totally Rad Show — or TRS as it was affectionately called — covered anything and everything that fell under the banner of geek-related movies, video games, TV shows, and comic books. Basically, Trachtenberg, Albrecht, and co-host Jeff Cannata gave their unique takes on major releases of the week, like a Siskel and Ebert for the comic book crowd.
Here's Trachtenberg and his co-hosts talking about J.J. Abrams' Super 8 from 2011:
Towards the end of TRS, Trachtenberg bolstered his filmmaking credits, and worked for commercials for brands like Lexus, Nike, Coca-Cola, Mitchell & Ness, and more before he graduated to sci-fi-tinged short films.
2011, then, was his banner year. In March 2011, he released More Than You Can Chew, a six-minute short film about two paramedics who take a potentially deadly 911 call. It debuted on BlackBoxTV, the Twilight Zone-esque YouTube channel that showcases anthologies of horror and sci-fi stories from independent filmmakers. Five months later came Trachtenberg's real big break. He released Portal: No Escape, a live-action short based on the popular video game Portal.
In retrospect, his gritty and realistic take on a woman trapped in a cell (she later escapes) has parallels to 10 Cloverfield Lane. Millions of views on YouTube later, it also proved he could do a lot with a little. Suddenly, his name was associated with several new sci-fi features in Hollywood.
In August 2011, Universal signed him to a deal to create a time-travel heist movie called Crime of the Century, based on his original idea. While the film was trapped in development hell, Trachtenberg was also adapting a big-screen version of Y: The Last Man, a comic book — with a reputation of being unadaptable — also suspended in development hell.
Trachtenberg talked at length about is affinity for Y: The Last Man on an episode of Geekdrome in 2006:
But by 2014, his Y movie fell apart, and he was courted by Bad Robot for a mystery project called "Valencia" This elusive film ended up being 10 Cloverfield Lane, Trachtenberg's directorial debut. In typical Abrams fashion, Bad Robot kept basically everything about the movie a secret, even to the actors involved, right up until the trailer debuted before 13 Hours.
Nearly everything about Trachtenberg's trajectory — and the movie itself — is surprising. Both represent the drastic changes and huge opportunities offorded to filmmakers like Rian Johnson, Colin Trevorrow, and others.
You talk about movies on a podcast and make a short film on YouTube one day and you're working with J.J. Abrams the next. You're shooting a movie called "Valencia," and suddenly it's a Cloverfield movie set for release in two months. We're still waiting to unlock the mystery of his movie, but it's no secret that Dan Trachtenberg has the track record to pull it off.