J.J. Abrams Is Building a Big-Screen 'Twilight Zone' With the Cloververse
'10 Cloverfield Lane' continues his transformation into Rod Serling.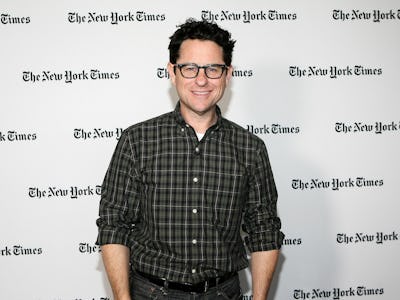 Getty Images
Has there ever been anything like Cloverfield? Well, yes, on the surface of it, there's been plenty. Found-footage movies are abundant these days and they've led a once-fascinating subsection of popular cinema to be reduced to a cheap gimmick. But, more specifically, we're talking about the universe surrounding the Cloverfield mythos that has been built up surrounding producer J.J. Abrams' 2008 monster movie, and now the mysterious small-scale thriller 10 Cloverfield Lane. We'll call it the "Cloververse."
If you look past the Slusho viral marketing, the zany fan theories, and the mystery box approach typical of the films and TV shows released by Abrams' Bad Robot Productions, we can see a rapidly proliferating and exceedingly unique cinematic universe — one that has nothing to do with superheroes or wars among the stars or even ambitions to make billions of dollars. Instead, Abrams seems to be building a big-screen artistic equivalent of one of his favorite shows: Rod Serling's classic multi-genre anthology series, The Twilight Zone.
Granted, we have only one eight-year-old movie and a new movie we know virtually nothing about to go on here. As far as we can tell, 10 Cloverfield Lane is about a girl (played by Mary Elizabeth Winstead) who wakes up after a car accident, trapped in a doomsday bunker built by a seemingly crazy guy (played by John Goodman), who claims he's holding her there for her own protection against some kind of outside force. So, basically nothing to do with monsters in New York City, right? Right.
But the proof that Abrams sees himself as ushering in a forum for filmmakers to have the opportunity to tell unrelated stories that mix drama, fantasy, science fiction, horror, and more is obvious in the way Abrams has approached the marketing behind 10 Cloverfield Lane.
The movie, directed by newcomer Dan Trachtenberg, isn't any normal sequel. It won't be what the first movie's director Matt Reeves suggested could be a follow-up when he told Coming Soon in 2008, "There's a moment on the Brooklyn Bridge, and there was a guy filming something on the side of the bridge. … In my mind that was two movies intersecting for a brief moment, and I thought there was something interesting in the idea that this incident happened and there are so many different points of view, and there are several different movies at least happening that evening and we just saw one piece of another."
This isn't just another person filming a New York City monster attack from his cell phone. Instead, 10 Cloverfield Lane is a blood relative, a spiritual successor to the kind of story told in Cloverfield. "This movie is very purposefully not called Cloverfield 2, because it's not Cloverfield 2," Abrams told Fandango in February, adding "the association is clear and there are multiple connections — and there is a bigger idea at play for us with these movies and this connection."
Abrams' sentiment, and his insinuation that there are even more ideas tied to the "Cloververse" implies that there is a broader, more supernatural world out there, and it's poised to become even bigger. "I would be lying if I didn't say there was something else that, if we're lucky enough to do it, could be really cool that connects some stories," Abrams told Entertainment Weekly. "This is just this movie, and it's only two films that we're talking about right now. There is something else that we'd like to do, and hopefully we'll get a shot."
This kind of ability to jump from story to story while keeping them under a single conceit is extremely reminiscent of The Twilight Zone, and it's no mistake. Serling's groundbreaking show happens to be a personal favorite of Abrams, who has dropped hints of his affinity for various bizarro Twilight Zone tales throughout his entire career.
"Operation Walking Distance," the shady military operation in Abrams' Spielberg homage Super 8, is named after the Twilight Zone episode called "Walking Distance," which Abrams has gone on record saying is his favorite. A 2000 episode of Felicity, co-created by Abrams, was an homage that took place in a paranormal dreamscape, was filmed in black and white, and directed by Twilight Zone alum Lamont Johnson. In 2013, Abrams also bought the rights to create a TV show based on an un-produced Rod Serling script called "The Stops Along the Way." The homages go on and on.
With the Cloververse, Abrams makes himself the contemporary equivalent of Serling, a storyteller with his hand in a series of separate but connected genre stories. To paraphrase Serling, Abrams wants to make us travel through another dimension, a dimension not only of sight and sound, but also of mind and of movie history. It's a journey into a wondrous land whose boundaries are that of imagination. Your next stop, the Cloververse.