Adam Green's Aladdin Will Be the Stoner Flick of the Century 
The official trailer has loads of guest stars, color, sex, and printed ecstasy tablets.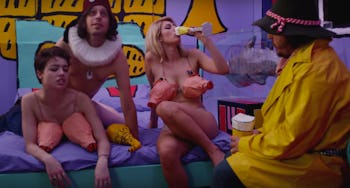 Youtube/adamgreenofficial
Most people know Adam Green for the purposely stale anti-folk songs he penned alongside Kimya Dawson in The Moldy Peaches — or for his extensive solo music catalog — but his career has more dimension than just music. More recently, Green has tried his hand at filmmaking, which seems to be an apt opportunity for him to express his whimsical, ironic sense of humor. His first film, The Wrong Ferrari — which Green filmed under the influence of ketamine on his European tour in 2010 — features Dadaist dialogue, random celebrities like Macauley Culkin and Sky Ferreira, and a non-linear plot line. Now you can watch the official trailer for his next feature film, Adam Green's Aladdin, a three-minute clip of Green's take on the Arabian classic that proves film is what he should be doing.
Based on the delightful incoherence of the trailer, this movie already stakes a bold claim in the realm of sensational stoner flicks. Over the course of these three confusing and colorful minutes, you travel on million different tangents, exploring the disheveled scope of the movie — no loose ends tied or resolutions. And that's exactly what we all want from a salacious, dry stoner take on a children's classic that resembles a cardboard cutout world designed by Moschino. Although the plot lines are deliberately disjointed and bizarre, Adam Green plays Aladdin, the hard-partying and sad indie music guru who grants people their strangest desires after he is bequeathed a magic lamp that can print ecstasy tablets and asparagus chairs, among other things. Alia Shawkat plays Aladdin's twin sister, Natasha Lyonne plays their inappropriate, drug-addled mother, and Macauley Culkin plays the leader of a rebel army that is fiercely opposed to the tyrannical sultan — played by Adam Green's Moldy Peaches bandmate Jack Dishel. Plus more bright colors, sex, drugs, and parody.
You could watch this trailer 20 times and still find something you didn't see before, which just goes to show how heavily Green's approach relies on chaos and distraction. But that's precisely what we all want from a perverse, raunchy stoner comedy like this one. With enough papier-mâché boobs and guest stars to make your head explode, the trailer for Adam Green's Aladdin proves that this movie will is a welcome follow-up to The Wrong Ferrari we weren't necessarily waiting for, but will welcome with open arms and stoned spirits.