J.K. Simmons Signs on as Commissioner Gordon in 'Justice League'
The veteran actor returns to superhero movies as Batman's lawful arm.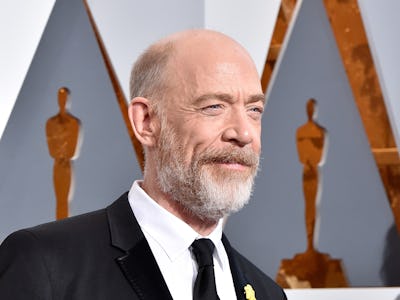 Kevork Djansezian / Getty
Oscar-winner and yellow M&M J.K. Simmons has nabbed the role of seasoned Commissioner Jim Gordon in DC's upcoming Justice League — Part 1, slated for November 17, 2017. No other details were revealed, beyond the initial news from The Hollywood Reporter.
Simmons will be the latest in a line of veteran performers to personify Gordon's paternal shadow to Batman as he joins the legendary team in Zack Snyder's epic. Commissioner Gordon, the weary Gotham police chief who has played the lawful arm to Batman throughout the character's comic book adventures, requires a different kind of intensity from Simmons' — a contrast to his amazing, leapt-from-the-pages portrayal of newspaper magnate J. Jonah Jameson in Sam Raimi's Spider-Man trilogy.
The last actor to play the Commissioner on film was Oscar-nominee Gary Oldman in Christopher Nolan's Dark Knight trilogy. Ben McKenzie from The O.C. currently plays a younger Gordon in the Monday night drama Gotham, an unconnected prequel series that airs on Fox. Last year, Breaking Bad and Better Call Saul actor Jonathan Banks voiced Gordon in the acclaimed video game Batman: Arkham Knight.
With Simmons tapped for Justice League and no one cast as Gordon in the upcoming Batman v Superman: Dawn of Justice (out March 25), it's safe to say Dawn of Justice will be sans the iconic character. But it'll be worth it, even if Justice League is still over a year away.
Shooting for Justice League — Part 1 will commence on April 11 and will release on November 17, 2017.