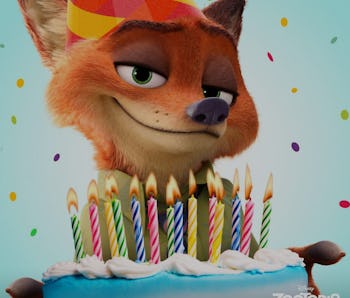 Entertainment
'Zootopia' Broke Disney Box Office Records This Weekend
But where does it stack up against the once-perfect Pixar?
Facebook/DisneyZootopia
Is Disney back? The House of Mouse has a bona fide animated hit on its hands with this the release of Zootopia, the CGI kiddie crime caper featuring the voices of Ginnifer Goodwin and Jason Bateman that is also resonating with adult audiences. It managed to pull in an estimated $73.7 million, a new box office record for a Disney Animation Studios film.
Zootopia's numbers beat out the over $67 million opening weekend haul of 2012's Frozen, a movie-turned-cultural phenomenon because of some seriously catchy songs. That also makes it the biggest animated movie to open in March, beating the $70 million tally of The Lorax in 2012, putting Zootopia at number nine on the list of the highest grossing opening weekends ever for an animated film.
While the numbers game is great on its own, Disney Animation Studios might also be in the middle of a renaissance. The brand has long tried to maintain its vaunted reputation after the Disney-owned Pixar Animation Studios became the animation world's critical darling. But Pixar has had a rough go of things lately. They still have the numbers to back up their operation — Zootopia's opening was still less than the opening weekends of Pixar's Toy Story 3, Inside Out, and Monsters University — but they seem to have lost a little bit of their magic.
The success of Inside Out may imply that they've still got the old spark, but the once-perfect Pixar flopped most recently with The Good Dinosaur after a continuous stream of lazy sequels. Bad news: they aren't going anywhere. Finding Dory, the sequel to Finding Nemo is up next for Pixar, while new installments of The Incredibles, Cars, and Toy Story are forthcoming.
While Pixar was creating classic after classic, Disney Animation Studios was producing forgettable fare like Home on the Range, Atlantis: The Lost Empire, Treasure Planet, and Brother Bear, to name a few. These were unfortunate deviations from the success of every animated film Disney made in the 1990s. The Lion King and Beauty and the Beast were indisputably grand slams.
To whip itself back into shape, Disney basically molded its animation studios after Pixar, tasking Pixar company masterminds Ed Catmull and John Lasseter with a company makeover. Both were responsible for all of Disney's animated output and with hits like Tangled, Big Hero 6, Frozen, and now Zootopia, they proved that —through a mix of cutting edge technology and artistic vision — the old Disney Animation Studios can still deliver.
With no big family-friendly movies opening until Disney's own big-budget reimagining of The Jungle Book debuts on April 15, Zootopia will keep capitalizing on the kids market, and reel in more money.