Corporations Are Making a Killing Off of Millennial Emoji Users
Durex's new emoji campaign is just the latest development in the emoji arms race.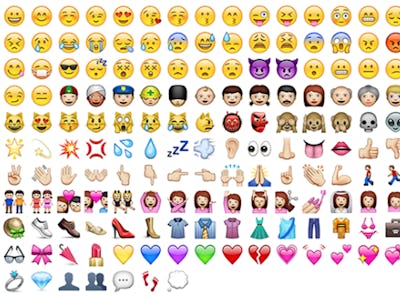 Emojipedia
Some of the world's biggest brands are shelling out big bucks to reach you in a new language — emoji. They're in many ways the perfect advertising medium. They're personal, emotional, and even international. After all, a taco is a taco no matter what language you speak.
The move into commercializing emojis is not necessarily here to stay, but it has all the signs of a healthy new sector for digital platforms that have struggled to monetize. Particularly Twitter has garnered a few million out of corporations paying to have their own emoji.
When Spotify was rolling out the complete catalog of The Beatles, it contracted Twitter to provide an emoji of the cover of Abbey Road to anyone who tweeted #BeatlesSpotify. Even though The Beatles were launching across a number of different streaming platforms, #BeatlesSpotify received up to four times as many mentions as did simply #Beatles.
Coca-Cola may have the been the first to buy its own emoji for Twitter, but since then PepsiCo, Anheuser-Busch InBev, Starbucks, Disney, and as many as a dozen other companies have forked over the $1 million or so it takes to immortalize the brand in emoticon.
The growing consensus that Millennials really love to communicate in emojis received a final boost last week when Goldman Sachs tried to summarize a report on the generation symbolically.
The emoji story tells of a young boy who studies, graduates, gets a job at Goldman Sachs, watches the clock go by for a few years before putting on a tie and finding a woman to kiss, give a ring, house, and impregnate. This inspiring American dream did not go over so well on Twitter, posing a potential limit to the emoticon fad at corporations widely held as culpable in the banking crisis that led to the current not-so-rosy outlook for Millennial graduates.
Despite the current interest in corporate emojis, some companies have decided its best to keep their exploitation of the new fad a little more low key. Taco Bell, for instance, decided advocating for a generic taco emoji may play better in the longterm than a special corporate taco. And, of course, Domino's has received widespread praise for allowing users to trigger a pizza delivery by tweeting 🍕 at it.