Go Fish, but With Evolution: The "Go Extinct!" Card Game Crawls Out of the Sea
In which 'The Origin of Species' meets Go Fish.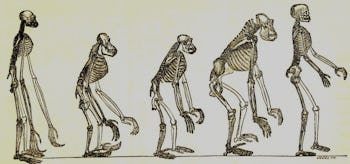 Thomas Henry Huxley/Wikimedia Commons
For anyone who ever felt Go Fish was a little meh and could've used some king snakes and stegosauruses to spice things up, Go Extinct! is a dream come true. Designed to make learning about evolution just as engaging as Settlers of Catan, the new game is a brightly illustrative alternative for those not quite ready to dive into The Origin of Species.
The game is designed by Fulbright Scholar and University of Queensland evolutionary biology Ph.D. student Ariel Marcy, who recently launched the educational game company STEAM Galaxy Studios. Go Extinct! uses 54 animal cards and works just like Go Fish, but instead of collecting sets of numbers, each player takes the role of a of zoologist, collecting groups of related animals. Players learn how to read "evolutionary trees" while seeing that nature's diversity is unified by common ancestors.
Last week, the game was profiled in the internationally peer-reviewed journal Science, in which Marcy explains that she was inspired to create the game because she noticed her students were having a tough time getting the concept of evolutionary trees. The 30-minute social board game differentiates creatures by physical traits, DNA sequence, geographic origins, and how their embryos develop. Just like trained scientists, players are encouraged to look for evolutionary patterns.
"Some kids are turned off by science because of the stereotype that it is boring number-crunching," said Marcy in a news release about the game. She says her eventual career goal is to help students design their own science games. "If only they knew how creative it was, more kids would be inspired to pursue it."
Marcy was able to pursue the project with the help of a Kickstarter campaign that ultimately raised $16,335. She sold out after her first eight months of business, and since then has ordered 3,000 more to be printed.
While designing the game, designed for players age 8 and older, she received feedback from the Society of Vertebrate Paleontology as well as local schools in order to create an optimal version. Since then, it's been shipped all over the world and adopted by institutions such as Questacon, a national science and technology center in Australia. Next up for Marcy is the creation of a new biology-inspired game, Suddenly Cute, which is for young children.
Studies consistently demonstrate that games represent architecture for engagement by stimulating cognitive and non-cognitive learning at the same time. Because games encourage people to make choices and practice problem solving, there has been a push toward more education-based games in recent years, based on the theory that turning a subject into a game causes student engagement and motivation to increase.
While the connection may seem obvious, the acceptance of evolution has long rested on education. Polls demonstrate that in the United States, 43 percent of people with no more than a high school degree believe in evolution compared to 73 percent of Americans with a college diploma.