DC's 'Legends of Tomorrow' Accepts They're Superheroes by Booting Heat Wave
The show ditches the uncontrollable Heat Wave as superhero self-policing.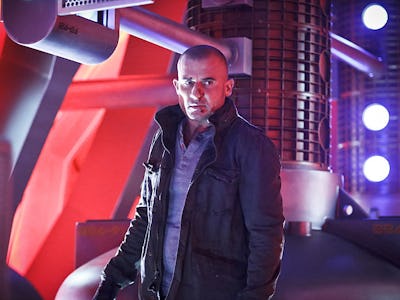 The CW
With Arrow and The Flash on hiatus, DC's Legends of Tomorrow takes center stage in "Marooned," an episode that exploits the series' sci-fi edge, and feels like a rewritten Firefly script. But while it plays sci-fi, Legends of Tomorrow leads with the declaration that this is a crew of superheroes — a label the show hesitated to accept — by letting go of Mick Rory, aka the supervillain Heat Wave.
Back when DC announced the new series as a de-facto Justice League –– with the super-villains Leonard Snart, or Captain Cold (Wentworth Miller) and Mick Rory, aka Heat Wave (Dominic Purcell; yes, the DC Arrowverse made a mini Prison Break reunion) on board –– I presumed DC was missing the point or stretching the "superhero" concept a bit far. Thus, I hoped Legends of Tomorrow would use Cold and Heat Wave as vehicles to explore the ethical ambiguity inherited by superheroes: because they operate outside law and order, these glorified vigilantes can easily become menaces, if left unchecked.
That's only happened partially. "Marooned" is an interesting diversion from the theme of unchecked superpowers in this year's Batman v Superman and Captain America: Civil War.
Space pirates ("Time pirates" actually but there's no real diff.) lure the Waverider crew and hold Rip, Jax, and Rory hostage while Sara and Snart freeze in an isolated part of the spaceship. The other guys break them free, but Rory's insecurity as a dumb meathead causes him to rebel and side with the pirates. He sells the team out, sticks to his gun (literally), and burns down the bridge between himself, Snart, and the others.
"Star City 2046" finalized where Rory's heart truly lies. As an urban crime nightmare, Star City is where Rory would have spent every day, like kids at Disneyland. And in the episode prior, he showed no brotherhood to Ray Palmer in the Russian gulag. Rory can't be a hero, and he's not a team player. He only came aboard the Waverider because Snart dragged him — "You were a package deal," Rip scolds to Rory in "Marooned". Rory never belonged; his screws were too loose, and he was becoming a liability. Betraying the team was the nail in Rory's coffin (ship coffin?), and his partnership with Snart.
Leonard Snart, the blue side of the Captain Cold/Heat Wave duo, has been on his own personal journey since The Flash. I wouldn't call him a "good guy" or even expect him to keep superhero'ing after Legends of Tomorrow, That said, Snart has turned into a bad boy with a heart of gold. His decision to ditch Rory for being a loose cannon is a fascinating and somewhat heartbreaking take on unchecked superpowers. It's superhero self-policing — that is, if Snart is secure enough to call himself a superhero.