Check Out Footage of Keanu Reeves Training for 'John Wick: Chapter 2'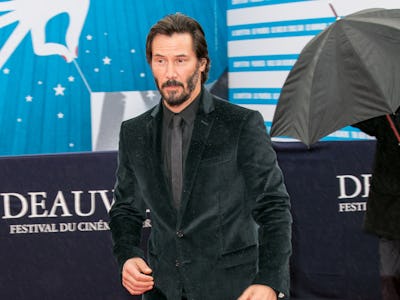 Marc Piasecki/Getty Images
Remember, kids: Guns are bad. But this video of Keanu Reeves' tactical training in preparation for his role in John Wick: Chapter 2 is all kinds of awesome. It comes courtesy of Taran Tactical Innovations, the weapons and accessory company started by competitive shooter Taran Butler that also regularly helps train movie actors to make it look like they know what they're doing while firing a gun.
According to its Facebook page:
"Taran has been a valuable asset to Hollywood and the film making business. Taran has trained movie producers, directors and actors including James Cameron, Michael Mann, Jennifer Garner, Collin Farrell [sic], Chris Hemsworth, and Josh Duhamel and the list goes on and on. Taran has worked on location or hosted movie training at his 20 acre range for many films including Public Enemies, Miami Vice, Transformers, The Kingdom, Avatar, and Charlie's Angels. Taran is a reoccurring [sic] guest expert on History Channel's Top Shot and helps out with choosing guns and equipment to be used on the show."
Check out Keanu embodying the Boogeyman below:
It makes sense that the genius filmmakers behind Wick would want Keanu to train with the best. While making the first John Wick movie, co-director David Leitch explained to The Detroit News that "we've had the pleasure to work with a lot of actors, but Keanu is as hard-core as they come," and continued, "he's as hard-boiled as John Wick. We asked more of him than we'd ever asked of any actor, and he never let us down."
Keanu is no slouch when it comes to making this kind of thing look effortless. Just check out the moment around the 24-second mark where he reloads a shotgun with one hand. It's that kind of actor expertise that you forget when watching action movies as good as John Wick. If this video is any indication, Chapter 2 will be even more savage than the first movie.
John Wick: Chapter Two is set to hit theaters in February 2017.