Ranking the 'Suicide Squad' Characters From Most to Least Suicidal 
How many of these Worst Heroes Ever on a suicide mission actually have a death wish?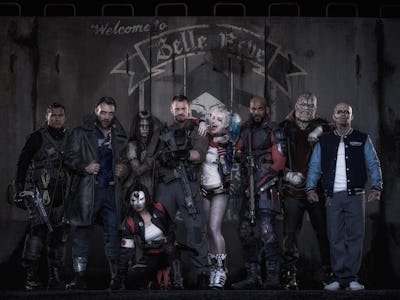 Warner Bros/DC
Suicide Squad markets itself as an edgier kind of superhero movie. It's got a zany Queen song in its trailer, a cast of un-heroic miscreants, and the word suicide is in the title. Clearly, this film means business: nary a shiny cape, nipple suit, or damsel in distress to be found. But in spite of all this, with one major character's failure to die already confirmed, this is hardly a movie of the Game of Thrones "nobody is safe" variety. Let's take a closer look at these characters and see which members of the squad— if anybody — are actually suicidal.
1. Captain Bommerang
Captain Boomerang is a mess. In the trailer alone, he's in a box, he's in a bag, and he's drinking on the job. Captain Boomerang gives zero fucks, and is therefore the most suicidal member. He wants to watch the world burn even more than the Joker does, because the Joker is too busy making crop circles out of knives, for whatever reason.
2. Katana
Katana is Rick Flagg's bodyguard; therefore, she is the second most suicidal, because she will fling herself in harm's way to save the grump. She's also not as evil as everyone else, so she will definitely die anyway, but survival is not her focus.
3. June Moone/ The Enchantress
The Enchantress isn't actively suicidal, but since June Moone became possessed by venturing into creepy ruins, she's that blonde in the scary movie who opens the door and goes down the scary staircase when she should be fleeing.
4. Rick Flagg
Rick Flagg is fed up with everyone and everything, and he's also possibly colluding with the enemy. He's not actively suicidal either, but he's as straight-and-narrow as he looks. He's like the PE teacher you used to have, who clearly had wanted to be a pro athlete, but his aspirations were ruined by an injury. Now, he grumbles at kids and says things that are borderline un-PC, despite the potential to get fired. He gives zero fucks.
5. El Diablo
El Diablo is the "guy who burns people," as Rick Flagg helpfully explains in the trailer. However, it looks like he might have self-immolated before this group photo, since he's suspiciously nowhere to be found. He probably engineers his own death to avoid this bullshit.
6. Killer Croc
As a sentient crocodile with a cannibalistic appetite, Killer Cros isn't smart enough to be suicidal; but he doesn't know any better. Most likely, he will die on their suicide mission in an accidental way.
7. Harley Quinn
Harley Quinn certainly has an appetite for destruction and a disregard for rules or consequences: she breaches doctor-patient rules in a big way by falling in love with the Joker. But she also has too much fun to be suicidal. She'll stick around for all seven sequels.
8. Deadshot
Deadshot is the least suicidal, mostly because we know he wants to make it to the next movie. He'll get the job done, but he won't take crazy risks unless they look cool.
If you're wondering why the Joker is absent, it's because although he's in the movie, there are no signs he's on the squad. And this is a members-only affair. Suicide Squad hits theaters in August. 2 Suicide 2 Squad likely hits theaters the following August.