On Last Night's 'Broad City,' Abbi and Ilana Have Bad Days at Work
For the first time in the third season, Abbi and Ilana bring us back to their respective work places for some Grade A comedy.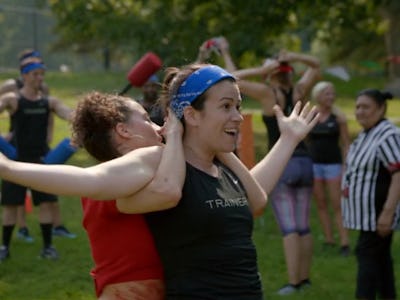 Comedy Central/Broad City
Part of what made the first two seasons of Abbi Jacobson and Ilana Glazer's Broad City so relatable and hilarious were the episodes that showed them at their dead end day jobs. Abbi works as a cleaner at a luxe gym called Soulstice, where the better-paid, more important personal trainers routinely call on her to take care of "pube situations" in the locker room. While Abbi badly wants to be promoted to a trainer, Ilana makes no effort to contribute at her mundane office job at an internet company — when she shows up to work every other day, her outrageous vulgarity makes her demure coworkers highly uncomfortable. In last night's episode "Game Over," the girls are back at their jobs for the first time in the third season. While the beginning of the episode finds both with more power than usual, things turn sour for them as their funniest but most inappropriate sides get the best of them.
At the end of the second season, Abbi is officially promoted to trainer, which is one of the only fortunate things to ever happen to her in the show. When it comes time for Abbi to participate in her first Soulstice Games — an annual event where the trainers split up into two teams and compete in various games — she knows that her hotheaded, inordinately competitive side will come out. Among the other trainers at Soulstice who are more athletic than she is but far less competitive, Abbi makes a complete fool of herself as she channels the Abbi who went berserk during a game of red rover at summer camp in 2002.
It's a side that no one at Soulstice has ever seen from her, which leads them to believe that she is taking steroids to try and fit in. What started out as a chance to prove her worth to her coworkers ends up a disaster, but not without maybe the funniest slapstick sketch from Abbi in all of Broad City. "Eat my ass one at a time!" she taunts, bent over after her team wins a low-stakes game of tug of war.
Ilana experiences a similar fall from grace in this episode. When a beautiful, well-to-do investor (Vanessa Williams) pays a visit to DEALS DEALS DEALS and puts Ilana in charge of the company's official Twitter page, Ilana starts tweeting out graphic and disturbing material as she experiences a power trip from her surprising promotion. While Ilana and the investor initially seem to share some strange qualities — including the "I shit" song they sing when they are on the toilet — Ilana is eventually fired for crossing too far over the line. The first two seasons of Broad City finds Ilana's meek boss incapable of firing her, but this time she must pack her things and go. In one of the most unpredictable segments of Broad City, her coworkers, who have suffered Ilana's presence for too long, break out into a choreographed rendition of "Joyful, Joyful" from Sister Act 2 and Janet Jackson's "What Have You Done for Me Lately."
When Abbi and Ilana are together, it's like no one else in the world exists. Their friendship is so entertaining and insular that we excuse the behaviors that make them realistically unlikable people. When they're both at work, however, their personalities are put into perspective. Abbi can't find a happy medium between pushover and competitive asshole, while Ilana simply doesn't have the work ethic to see anything through. They are incompetent in totally different ways, but the work-based scenarios in Broad City bring out some of their most amusing and bizarre moments in the series.