Rap Rock Is Alive and Well on the Billboard Charts With From Ashes to New
The Lancaster, Pennsylvania band is reviving the sound of classic rap rockers like Papa Roach, Linkin Park, and Saliva.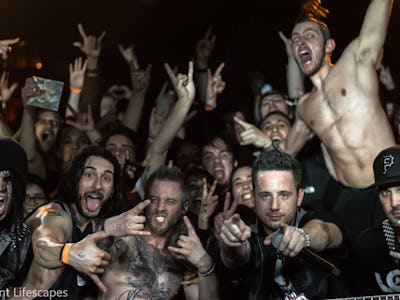 From Ashes to New Facebook 
You think back on it and wonder, "How did that whole thing happen?" You consider: "How was Limp Bizkit popular enough to be competing with 'NSYNC in terms of sales?" You marvel: "TRL used to have 98 Degrees, 'The Bum Bum Song,' and the newest Korn single flanking each other in the Top 10."
If you thought rap rock's last pop vestige was Linkin Park — or perhaps later, more Anticon Records-tinged detritus like the Flobots — you're patently wrong: There's a new sheriff in town. Rising Lancaster, Pennsylvania band From Ashes to New is continuing where LPark and Papa Roach left off, and have a number-14-and-rising hit on the Mainstream Rock charts.
When I say Linkin and Papa Roach I am being discriminating: Those two bands, in particular, are the best precedents for From Ashes to New super-compressed, emo-tinged sound.
"There's really not a lot of bands that do this style of music. I think people seem to think that it's played out, but I don't think that it was ever touched upon. This style of music, we haven't even scratched the surface of it yet," lead singer Matt Brandyberry clarified to Billboard last week.
In the sense that From Ashes for New are bringing something new to the table, it is a super-regulated, motormouth-style of rapping that seems to illustrate a deeper interest in hip-hop tradition than your average nu metal act. Brandyberry has espoused his devotion to like-minded jaw flappers Bone Thugs-n-Harmony, as well as DMX and (less surprisingly) Eminem. Of course, most interviews also cite Pantera, and formative cult rap-rockers Sevendust's album Animosity was the first CD Brandyberry claims to have bought. What a time to be alive.
Metal bands of the classic rap rock and nu metal period still sell a ton of records — six of Slipknot's full-length releases, for instance, have hit the Top 10 on the Albums charts. Yelawolf and the Shady Records crew — still maintain a rabid following. The demand for new rap rock music is out there; it's just a question of whether a band has enough pop sensibility with their choruses to break through on a wider sphere.
With their breakthrough single "Through It All" (a classic LPark-ish title), From Ashes to New has somehow done this with its screamo-esque anthemic chorus, even with its verses mired in an triple-time flow that seems too heavy or plodding to feel tripping. The band's new Downfall EP will be impacting March 10, though its currently streamable on YouTube through the Eleven Seven Music Group's channel. Note: The label also released Papa Roach's latest album.
It remains to be seen if a full FAtN effort will chart (their February LP did not) and poise the band for career longevity. Possibly, it will inaugurate the rap rock renaissance no one ever expected. With album covers that look pulled straight from a classic-era Deviant Art page, and music that commits to its unlikely brand without pretension, it's hard not to respect these guys for getting some success through revamping one of the more reviled styles in the history of pop music.