The Workings of Tom Green's New Web TV Mini-Empire
Assessing the former MTV icon's grandest creative project to date.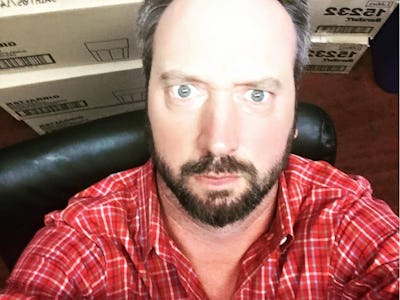 It's 12:30 a.m. on a Monday night, and I am lying in bed with my phone, watching Tom Green shriek in a pig mask.
Right now, across the country in Burbank, he's sitting in a humble studio with a couch, desk, grilled cheese press, and electric keyboard, taking calls from fans all over the world to promote his new "Web-O-Vision" online TV channel and subscription-based on-demand service.
I am watching him on a YouTube stream, but fans are also piped in from Facebook and Periscope; he addresses them on his computer and phone, reminding them that they should swtich to YouTube if they don't want the backlight to shine in their eyes.
Every night when Green is at home in LA — mostly weeknights, since he generally does stand-up shows around the country on the weekend — he treks to this small studio late at night to do an impromptu live broadcast (he tweets the time to tune in).
He takes calls via Skype and phone from anywhere in the world, periodically interrupting conversation to plug his paid subscription service in the mode of PBS' "dialing for dollars." If he gets five subscribers within a certain time window, he will extend the show an additional twenty minutes.
Periodically, he'll pause to walk over to make up songs for the new subscribers using their names. "Michael Cribari, you play the Atari," he screams, his voice raw from lack of sleep and a few Heinekens. "Gregory Strauss, you're not a louse/ You're not silent like a mouse"…it goes on.
The show I watched lasted nearly two-and-a-half hours.
This, I eventually realized, was Green's second live web broadcast of the day.
Most weekdays, Tom does an hour-long interview show with one of his celebrity friends, from alternative comedians like Eric Andre to Duncan Trussell, blasts from the past/proverbial "washed up" comedians like Andy Dick and Pauly Shore, to oddballs from wrestling, skating, and UFOlogy — basically, whoever can swing by the studio for a while.
He prepares for and announces the show by tweeting out that fans should meet him at the "Donut Prince" at 3:45. Yes, this is a donut shop — on Olive Boulevard in Burbank. Those who show up are greeted by Green, often introduced on Periscope, and then shunted off to be his studio audience. Usually, the draw is between five and twenty people.
Afterwards, clips for all "Web-O-Vision" shows are posted on YouTube. There are dozens of these, mixed in with an unwatchable number of clips Green has uploaded from his long-running web talk shows Tom Green's House Tonight and Tom Green Live!, 2003's short-lived late night MTV talk show The New Tom Green Show, and the program which made it possible for him to be doing any of this today: MTV's The Tom Green Show.
The latter show, though it only ran just over a year on national television, made Green one of the most notorious entertainers in the world.
Among other things (see his anti-role in Road Trip), it allowed him to score the top video on MTV's Total Request Live, at the height of the show's popularity (it stayed there for so many weeks the show had to beg him to pull it from rotation) and gave Green carte blanche to write, direct, and star in what is easily the most bizarre Hollywood comedy ever made, 2001's Freddy Got Fingered.
But though you can access many famous skits and longform interviews Green did in subsequent years (Fred Durst? Steve-O? Xzibit? Crispin Glover?) for free on his YouTube channel, the subscription service through Connectpal gives you access to more full episodes and rarities — posted one-by-one, seemingly as Green and his limited team have the opportunity to upload a new dusty tape (you're emailed each time a new one is posted).
The rate is $5.99 a month, and the interface is a bit hard-to-negotiate; it still has the look of an undeveloped Squarespace site, and it's difficult to search — and how would you know what you were searching for anyway? You have to peruse an endless scroll of embeds broken up by user comments and captions like "The New Tom Green Show #11 with Taryn Manning, Dax Shepard & Nick Lachey 2003."
Really — you can't make this shit up. But for those of us who have been devoted to the now-marginalized Green since a young age, there is a certain kid-in-a-candy-store effect.
An ad in one of Green's recent Web-O-Vision broadcasts had informed me there were significant outtakes from Freddy Got Fingered in the vault of tapes that were being transferred to the on-demand channel, which enticed me to try it. But unfortunately, doesn't look like they've gotten to that box yet.
What is admirable is how devoted Green seems to be to his utopian project. He's been vocal about the fact that he wants Web-O-Vision to not only be a platform for him, but for alternative comedy in general.
"We're taking livestreaming independent television and doing a full-on network with some traditional elements to do a talk show completely unencumbered by corporate interference or bosses," Green enthusiastically explained in a recent interview with a Canadian site. "We're going to do really weird TV on the cusp of a new generation."
Green is thinking big, maintaining his love for spontaneity and operating along the lines of the public access broadcasts he cut his teeth on with Glenn Humplik, back in British Columbia before being discovered. This dream is what subscribers' money goes toward: Green being able to sustain his operation, and eventually expand it. In the studio at night, volunteers often switch cameras and "direct" for him; often, he runs everything by himself.
"The Portuguese are the bee's knees! The Portuguese are the bee's knees! The bee's knees, the bee's knees…" the pig-masked Green is chanting.
A Skype caller in Portugal looks on, first in amusement and then in perplexity.
A few minutes earlier, Green was respectfully speaking to a subscriber about his coursework at nursing school, catching up with a young cartoonist who had been calling into his show for years, and passionately selling the Connectpal service to a woman who called to commend him for his courage in his struggle with testicular cancer (which Green documented in an MTV hour-long special).
But in a blink of an eye, the old walking-cartoon Green returns, better than ever — having a blast with the freedom to take his own cues, and only his own cues.
Green's corner of the internet, I discovered, is surprisingly warm and compelling — a good place to hide from most of the rest of it.