Olivia Munn at the Oscars Announces the Exact Day Robots Take Over
No worries, you've got a good six months sans robot master.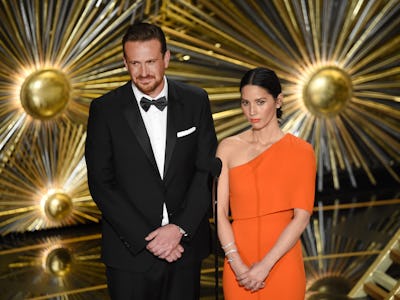 By: Kevin Winter/Getty Images
Sandwiched between Mad Max scoring six Oscars for visual effects and a visit by Star Wars robots R2-D2, C-3PO, and BB-8, was a brief comedic moment offered by a funny lil' duo, Jason Segel and Olivia Munn. The lovely and nerdy star of Ride Along 2 decided to take this opportunity to drop the exact date that robots are going to take over. But don't worry, you have some time before you'll be regularly bowing at the metal feet of a robot master.
Segel started with a joke about people complaining that the Oscars are too short, they don't give out enough awards! To give out more of those C-3PO-looking statues, Munn said the two hosted an additional annual ceremony, the Oscars' Sci-Tech Awards two weeks before — so exclusive, she said, "none of you could come." The ceremony honors, Segel announced, "the wizards who not only see the future of movies, but invent new ways to bring that vision to life."
Munn says they were also honored to host and to "bask in the achievements of Hollywood's top engineers, programmers, and scientists to find out the exact day that robots take over." That day is August 27. What year? We still don't know.
The internet noted that perhaps she got the date wrong by one or even two days — think Terminator 2: Judgment Day.
We're banking on Olivia's intel over that of Twitter or T2 (even though, scariest robot movie of 1991, come on now).
Others just decided she botched the joke.
Finally, those who hate, pointed out that her delivery was lackluster. We thought it was all part of the show!