Is There an 'Alan Wake' Sequel?
There are strange rumblings around one of gaming's most beloved cult properties.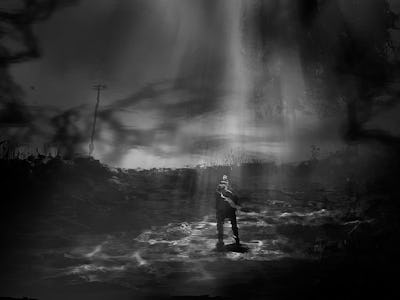 What is happening with Alan Wake? Is there a sequel in bound, or are we silly to get our hope up, yet again?
The first game, about a writer thrown into mysterious Twin Peaks-ish situations, was a cult hit on the Xbox 360. A sequel was demoed and eventually cancelled, but some of the assets were turned into a small Xbox Arcade title called Alan Wake's American Nightmare that dropped the plot elements in favor of a more arcade run-and-gun approach. Based on poor sales, we were told that Finland's Remedy Entertainment would not be pursuing the IP further.
According to the Remedy Entertainment site, they are currently staffing up for a new project as of January, which caught my eye but didn't necessarily mean that Wake was coming back. After all, they gave it a go with that smaller arcade release to test the waters for gamer interest, and their new property Quantum Break seems like it requires a lot of attention — since it is both a video game and a TV show?
Then this happened:
A user on Neogaf spotted this trademark filling for Alan Wake's Return, which is also indicated as a "fast track" filing, so perhaps there's an announcement coming soon? "Return" is also the name of a book Alan Wake writes in at the end of one of the DLC add-ons for the original game, so this could be a direct tie-in.
Remedy hasn't confirmed the trademark application, so there's a possibility for a hoax. This is, however, the account that filed for Max Payne and Bright Falls, so it seems very credible. This Polygon video showed off the cancelled sequel footage, which included some horrifying enemy A.I., collision tech, and some of the fiction super-powers that were only really embraced in the DLC work.
It's a fantastic IP and the original was plagued by production delays, so it really deserves another shot on modern consoles. Could that be what this is? Just an HD re-release? Probably not. But Remedy has shown that they love dabbling in possibilities, so if not a full sequel, perhaps this is another one-off game? Or another TV tie-in? Or is it really Christmas morning and this sequel is getting the green light?
Remedy releases Quantum Break next month. The first trailer seemed like the death of any potential Alan Wake sequel, since the game uses very similar mechanics to the light/dark hauntings.
Will the success of Quantum Break guarantee that Wake can finally finish his business with Mr. Scratch? We can only hope.