UK eBay Listing Reveals New 'Rogue One' Logo and More
The auction is allegedly for an official cast and crew duffel bag set.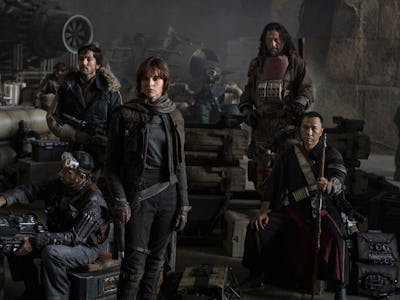 StarWars.com
The press push for The Force Awakens began well over a year before the movie was released in December 2015. The first glimpse of the first teaser showed a lot and explained nothing, and it was glorious. We're nearly nine months away from the release of the first standalone Star Wars movie, Rogue One, and we have only a hero image of the main cast to go on, until now. Don't get us wrong, we love kickass photos of pre-A New Hope rebels, but we're chomping at the bit for anything new here. But now, what purports to be a cast and crew duffel bag gift from the movie has popped up in an auction on eBay's UK site, and it gives us the slightest hint at a few new details on the highly anticipated movie.
It's a bit desperate, we know, but we're super desperate for some details on Rogue One since it's the first Star Wars movie that isn't tied to the main Skywalker story. Just think about it; nearly 40 years have gone by and Star Wars has been synonymous with the Skywalker clan until now.
We'll shut up so you can take a look at the photos in the listing.
Here's the description of the auction from eBay user csavory2012:
"This bespoke duffel bag was specially commissioned for the cast and crew of the latest Star Wars film, Rogue One. It has been expertly hand made by Tombag of East Sussex. The brand's military roots are immediately apparent in the solid brass hardware, durable waxed canvas material and unique top loader design."
The Tombag brand is a legit company in the UK where the movie is being shot, and the embroidered logo is the same one that Disney and Lucasfilm have been touting since the subtitle was changed to the semi-goofy A Star Wars Story awhile ago. But notice anything different on a somewhat familiar logo?
The circular crest looks similar but just slightly different from the iconic Rebel Alliance logo from the original movies. Given the timeframe of Rogue One, this might be the crest of the group of Rebel spies — potentially led by Felicity Jones — that are tasked with stealing the Death Star plans.
Star Wars fans might also recognize the markings under the logo as Aurebesh, the custom language of the Star Wars universe. And just what does it translate to? Unfortunately, there is no Aurebesh in Google Translate, but thankfully we're hopeless geeks who know this shit. It says "Go rogue", which we could see as the potential tagline for the movie.
We'll have to wait for the first teaser trailer to find out more particulars, but Rogue One blasts into theaters later this year.