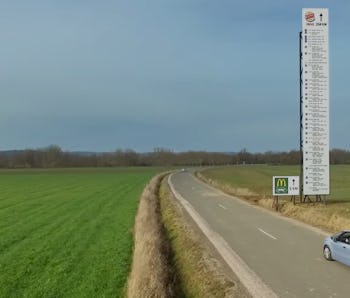 Watch a French McDonald's Billboard Troll Burger King With GPS Directions
The competition for fast-food drive-throughs in the French countryside is brutal.
YouTube
In France, McDonald's just trolled Burger King in a wonderful, albeit possibly gratuitous, way. And this wasn't some tired, overused trolling method: this was unique, creative, and downright impressive.
TBWA Paris, the Golden Arches' advertising agency in France, erected two temporary billboards between Brioude and Fontannes. In this part of France, the nearest Burger King drive-through is not at all nearby — in fact, this location was chosen for the simple fact that it was the longest distance between a so-called "McDrive" and a Burger King drive-through. One billboard announces that there's a McDrive just 5 kilometers up the road, a good crisp jog away. A second billboard, adjacent to the McDrive one, gives drivers turn-by-turn directions — "recommended by Viamichelin" — to the closest Burger King drive-through. And that drive-through is 258 kilometers, or a whopping 160 miles, away.
The video claims that, while there are over 1,000 McDrives in France, there are only 17 Burger King drive-throughs. With an advantage that stark, it's a wonder they even feel the need to advertise. Then again, that's classic troll behavior: carry out actions that are both indecent and wholly unnecessary.