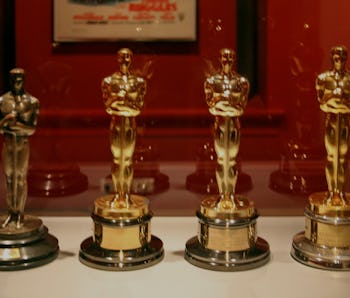 Science
Win Your Office Oscar Pool With These Vegas Odds
Will you bet against Leonardo DiCaprio for that 'Revenant' Oscar?
www.flickr.com/photos/nostri-imago
It's that time of year again. People across the globe are freaking out for some reason over an industry awards ceremony. But we're not talking about some local company boosting company morale by giving out plaques. Nope, we're talking the Academy Awards happening on Sunday. Which 2015 films will join the vaunted ranks of such recent Best Picture classics as The King's Speech, The Artist, or Slumdog Millionaire? The tension is so thin you could cut it with a basketball.
Chances are you've got your predictions, and typically with the Oscars the conventional choice is the right choice. But in case you're literally betting on who or what will score hardware this weekend we have the Vegas odds courtesy of RJ Bell of Pregame.com.
Best Picture
Mad Max: Fury Road: 100/1
Not many surprises here, as The Revenant has regrettably ridden the lead-up to the Oscars with multiple awards wins. All of the talk after Deadpool was such a success was about what it meant for the superhero genre, but who cares about that. All this success for The Revenant means we need more people fighting bears in movies. We welcome the influx of bear-fighting movies with a giant, regrettable bear hug because The Revenant isn't a good movie, and yet it's bound to win Best Picture.
Best Director
Alejandro González Iñárritu (The Revenant): -900
George Miller (Mad Max): 7/1
Adam McKay (The Big Short): 22/1
Tom McCarthy (Spotlight): 25/1
Lenny Abrahamson (Room): 100/1
Uh-oh, more Revenant. Iñárritu has this in the bag, but George Miller should really win this award for Mad Max. That movie is impeccably directed, and without him could have easily been a messy pile of action nonsense. Instead, Miller made it into one of the best movies of the year. Fat chance that the Oscars will actually give the award to the person that deserves it.
Best Actor
Leonardo DiCaprio: -6,600 (risk $66 to win $1!)
We're like a broken record here with Revenant talk, but Leo's inevitable Oscar win for trying way too hard in The Revenant has been set in stone for months now. He'll get up onstage, make a pleasant but potentially political speech, and the win will set off a firestorm of think pieces about whether DiCaprio ranks among the best actors ever. He deserves to win, just not for this movie.
Best Supporting Actor
Sylvester Stallone (Creed): -250
Mark Rylance (Bridge of Spies): 3/1
Tom Hardy (The Revenant): 16/1
Christian Bale (The Big Short): 25/1
Mark Ruffalo (Spotlight): 60/1
We can hear the Rocky theme playing now. The Academy loves a legacy, and giving Stallone an Oscar a few decades after he won the award for playing the same character is a story too good to pass up. But Rylance's performance in the relatively boring Bridge of Spies is a classic vanilla Oscar performance of a dude who loses himself in a role. It could mean an upset in the Best Supporting Actor category, but Rocky has always been an underdog even when he's favored to win.
Best Actress
Brie Larson (Room): -2,500 (risk $25 to win $1)
Saoirse Ronan (Brooklyn): 14/1
Cate Blanchett (Carol): 40/1
Jennifer Lawrence (Joy): 45/1
Charlotte Rampling (45 Years): 66/1
In the eyes of the Academy, Brie Larson is the new Jennifer Lawrence; therefore, Brie Larson will win an Oscar this year, will probably pick up a second one in the next few years, then get out of the way for the newest upcoming actress to make a splash. Room is supposed to be great, though, so at least it's deserved.
Best Supporting Actress
Alicia Vikander (The Danish Girl): -200
Kate Winslet (Steve Jobs): +350
Jennifer Jason Leigh (The Hateful Eight): 40/1
Rachel McAdams (Spotlight): 100/1
Whoops, wait, did we say Brie Larson was the new Jennifer Lawrence? We kind of meant Alicia Vikander is the new Jennifer Lawrence. The Academy loves propping up young actresses in the Supporting categories to prime them for their eventual Best Actress wins, and Vikander is filling in the Oscar mold quite nicely. But we all know she really deserves every possible award for her role in Ex Machina and not The Danish Girl, aka Oscar Bait: The Movie.