'Spotlight's' Tom McCarthy Will Direct Part of Selena Gomez's Netflix Series
The 'Spotlight' director will direct the first two episodes of the Gomez-produced Netflix series '13 Reasons Why.'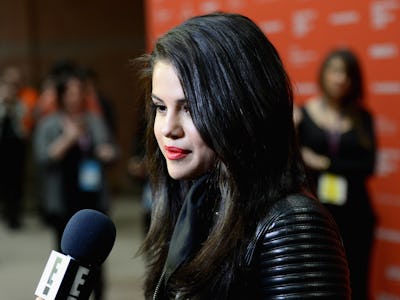 Getty Images
Tom McCarthy is at a major apex in his career. Not only is the Spotlight director up for several Oscars this weekend, including Best Director and Best Picture, but news about his next project also broke today. McCarthy is set to direct the first two episodes of an upcoming Netflix series called 13 Reasons Why, which Selena Gomez will executive produce. McCarthy will also executive produce the rest of the 13-episode series, which is based on the bestselling book by Jay Asher.
Brian Yorkey penned the TV series adaptation, which centers on a boy named Clay going through an upsetting time after he receives a box full of cassette tapes made by his late classmate and crush Hannah, who recently committed suicide. The tapes contain recorded messages from Hannah explaining how 12 of her peers individually played a role in her decision to take her own life. The box comes with instructions to pass the tapes along to the other students who are addressed in the dark messages.
Steve Golin, another executive producer on the upcoming series, was also a producer on Spotlight, and he brought the adapted TV series to McCarthy's attention. Although Gomez was technically an executive producer on Wizards of Waverly Place, her helming of 13 Reasons Why marks her first major production credit. Now that an Oscar-nominated director is slated to executive-produce the series and direct two episodes, Gomez's bold endeavor assumes an impressive level of legitimacy. Following the release of her critically-acclaimed album Revival last year, this major TV endeavor could be what Gomez needs to fully round out her career as a multitalented artist.