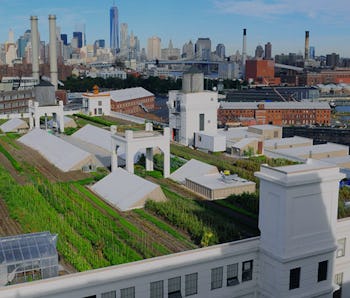 Culture
This New White House Report Projects a Green Future for America's Big Old Cities
A booming urban core is an opportunity for 21st century upgrades.
brooklyngrangefarm.com/about
The city of the future is going to be filled with self-driving cars that will transport people between greenhouse-topped buildings, projects a new White House report released Tuesday.
Compiled by the President's Council of Advisors on Science and Technology on how to take advantage of the moves of many from the suburbs back to the urban core, the report finds that people are "increasingly open to different ways of using space, living, working, and traveling across town." And while crumbling infrastructure like outmoded water systems couldn't handle a renewed population, the good news is that the influx of people will provide a demand for investment in fresh technologies like clean energy projects and upgraded transportation systems.
Here are some highlights from the report's "Current Activities and Near-Term Future Opportunities" section, which was much more interesting that its rather dry title. (This is the federal government, after all.):
Self-Driving Cars Will Save Us All
Autonomous vehicles will do more than let you squeeze in a quickie on your morning commute. Self-driving vehicles can save cities millions, maybe even billions of dollars, considering traffic congestion costs the U.S. economy roughly $124 billion annually. Besides making drives easier, cities could look at repurposing land no longer needed for one-way streets to become bike lanes, wider sidewalks, and even increased housing.
Clean Localized Energy
Instead of using natural gas as a primary source of energy, cities will be better served using hybrid energy systems. Cities will match up "District Energy" sources to produce power equal to average local use for a specific area. Those sources would use grid-sourced electricity and electric heat recovery systems for power — instead of fossil-fueled heat and power plants.
Pre-fabricated Buildings
We'd do well to look into pre-fabricated designs and modular construction. They allow for higher precision of construction as well as speed, and cost a lot less, but the United States has been slow to adapt them compared to the Japanese and Scandinavian housing markets.
Storm Water Storage
Storm water can be used just as well as any other kind for field irrigation, or "washing of the grandstands at the local ballpark," as the report puts it. Look for cities to start building storage systems modeled on Minneapolis' half-million-gallon system, which is concealed just below a pond filled with fountains. It'll save cities millions of gallons of water that could be used solely for drinking.
Everyone Will Be a Farmer
That barren rooftop needs to start pulling its weight, and greenhouse would be a good place to start. Not only will a city covered in greenery keep food costs down, but it'll preserve soil and save on water use since systems can be fruitful with only periodic misting.
The White House is already ahead of the trend: In September 2015, President Barack Obama announced a $160 million Smart Cities Initiative to invest in community technology for "reducing traffic congestion, fighting crime, fostering economic growth, managing the effects of a changing climate, and improving the delivery of city services."
It's not on the level with Japan's promise to build a "city of robots" from the ground up, but it's a start.