Swagway Says Hoverboards Probably Won't Explode, but Also Not to Hoverboard
A new CPSC report has the leading hoverboard manufacturer spinning.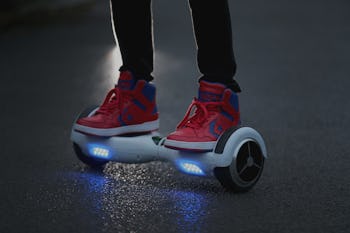 Major hoverboard manufacturer Swagway is having some trouble getting its story straight, and the whole thing is starting to blow up in their faces.
After a Consumer Products Safety Commission report declared hoverboards — 2015's two-wheeled, not-actually-hovering mega-fad — unsafe, mostly because they tend to explode, Swagway emailed Mashable to say that their customers should probably step off their boards for the time being.
"In complying with the CPSC's requirements, we ask customers who have purchased a Swagway to refrain from using their boards in the interim," the company said in an email.
But on Monday, they decided everything was fine, emailing Mashable again and making a post on their website's FAQ section that their hoverboards actually met the CPSC's requirements. "The original Swagway from the very beginning already meets the newly required standard and we are currently evaluating if our product complies with the new voluntary standard as recommended by the CPSC," the company said in a statement. "We stand by our products and are confident that Swagway still remains the safest on the market."
We're not sure what happened at Swagway HQ over the weekend, but things don't appear to be gliding along smoothly right now. They told The Verge that their statement to Mashable was a "miscommunication."
"Due to an apparent miscommunication, there have been inaccurate reports about Swagway's position related to the CPSC's recent declaration," Swagway told The Verge. "To be clear, we did not announce any official position related to this."
So far, Swagway has not issued a recall on any of their products, and maintains that their original hoverboard passes muster with the CPSC requirements. Still, with many boards running on explosive lithium batteries, it might be wise to stay off your hover board for the time being, as neither Swagway or any of the other major manufacturers have passed the voluntary certifications the CPSC recommends.