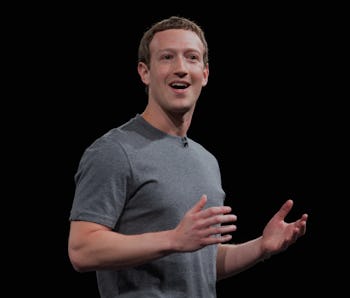 Innovation
Mark Zuckerberg Waxes Poetic as Facebook Assembles Social VR Team 
"VR is going to be the most social platform," Zuck intuits.
Facebook
Mark Zuckerberg graced a crowd with his presence on Sunday at the Samsung Galaxy S7 launch, and then proceeded to announce Facebook's plans in virtual reality, that burgeoning new realm, mused on the future of VR experiences, and outlined the blueprints for Facebook's transition to an all-inclusive social network — a social network that doesn't just give you a glimpse into your friends' and family's lives, but one that immerses you in those lives.
Here's señor Zuck, master of making the blogosphere swoon:
"One day soon all of us are gonna have the power to broadcast live what we're doing, whenever we want. That way, our friends and families and the people we care about can experience it as if they're right there with us."
Zuck also announced that Facebook just formed a dedicated Social VR team. This team is responsible for inventing your VR social network futures: working closely with Oculus, these Facebookers will "explore how people can connect and share using today's VR technology, as well as long-term possibilites [sic] as VR evolves into an increasingly important computing platform."
Job listings over at Facebook Careers give a little more insight into what that team will do. Facebook is looking for an "Application Engineer, Social Experiences," who will "explore, prototype, and build experiences that define how people interact with each other in VR such as VoIP [Voice over IP], Avatars, and other social features." And they're also seeking an SDK Engineer to code those same social experiences.
Zuck, speaking at the Samsung event, sounded pretty thrilled about what's to come. Even though VR is "still mostly used for games and entertainment," he painted a portrait of the "quickly-evolving" future of VR social experiences. "Pretty soon we're gonna live in a world where everyone has the power to share and experience whole scenes as if you're just there right there in person," he said, continuing on to explain that, when his daughter takes her first steps, he hopes to capture the moment in a 360º video. That way, "even if my parents and my family aren't there to experience it in person, they can feel like they're right there with us."
Zuck invited audience members to imagine the following scenarios, made possible only with, you know, Facebook VR and Oculus Rifts:
"being able to sit in front of a campfire and hang out with her friends anytime you want"
"watch[ing] a movie in a private theater with your friends anytime you want"
"holding a group meeting or event anywhere in the world that you want"
And he then promised that "all these things are to going be possible," which is why, he says, "Facebook is investing so much early on in virtual reality: so we can help to deliver these kinds of new social experiences."
Zuck made another premonitory vow at the event: "VR," he intuits, "is going to be the most social platform."
For a more technical look at the Facebook's VR development, look no further: