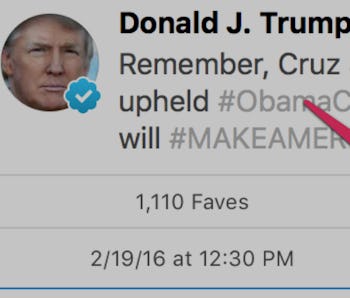 Innovation
Donald Trump Calls for Apple Boycott -- Still Uses an iPhone
Maybe he'll go back to Samsung?
Getty
Apple has a new enemy in its standoff with the FBI over whether it should be forced to unlock the San Bernadino shooter's iPhone — Republican presidential frontrunner and apparent iPhone user Donald Trump.
Trump called for a boycott of the company on Friday during a South Carolina rally, doing a rhetorical crab walk over to the controversy when asked about keeping jobs in the United States.
"The phone's not even owned by this young thug that killed all these people. The phone's owned by the government," Trump said. "But Tim Cook's looking to do a big number, probably to show how liberal he is."
Here's Trump's full call to arms, right after praising Tom Brady.
Whether that boycott will extend to his own phone of choice remains to be seen, with this grab making the rounds on Trump's preferred method of oration
If Trump is indeed tweeting from an iPhone, it's a relatively fresh hypocrisy. An October 2015 New York Times piece on the Donald's Twitter strategy reported that he used a Samsung Galaxy. That's in line with his pre-iPhone 6 history of slamming the company for refusing to make screens that meet Trump's now well-documented and pathological demands for hugeness.
In January 2014, he claimed to have dumped his Apple stock over the phones and has been a critic of Tim Cook's tenure.
And here's the prediction:
But again that was before the iPhone 6s Plus was offered in what can only be described as a Trumpesque rose gold. A man's phone reflects his heart.