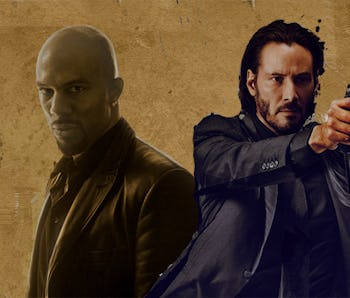 Entertainment
'John Wick 2' Has a Release Date and a New Title
Can those promises of no puppy deaths be kept?
Look, we get it. Inverse is beginning to border on the verge of becoming a full-time John Wick fansite. We're fine with it. We're totally fine with it.
We've been super excited that Common is the villain in the forthcoming sequel, but there'd been no announcement about when we might see this second installment. Until today.
Exhibitor Relations dropped some knowledge on its Twitter account, informing everyone to plug February 10 of 2017 into their Gcals as "WICK DAY" and that the second installment will be named John Wick: Chapter Two. That name is … fine. Just fine.
OK. Cool. This release date puts the film up against the next installment of 50 Shades in the oddest sequel battle we can remember. That's also the release date for The Lego Batman Movie, so a pretty great fit for a Keanu bloodbath flick.
We know that the film's plot takes place in Rome (just like the disastrous Zoolander 2) and that it will see the return of cast members from the first film, including Bridget Moynahan, John Leguizamo, Lance Reddick, and Ian McShane.
John Wick: Chapter 2 has also announced the inclusion of new actors, including Laurence Fishburne, Ruby Rose, Peter Stormare, and the aforementioned Common.
In an interview with Collider, Reeves mentioned that this won't be another dog-murder revenge story, and will instead look at the bigger world of Wick:
"We're gonna do the same kind of thing in the sense of what are the guiding principle, and so it's longer takes, know where you are on the space, who's doing what, action with consequence. And then going to other levels of what the gun-fu was, which was Jujitsu, Judo mixed with weapons and different styles of weapon training. So we've been opening up, I've been learning some other tools and different styles of that and trying to develop some more techniques in terms of Judo and Jujitsu and bring those elements into the work. And then we have some other things that might be a little different."
"I think for me I'm interested in what happens to the guy and in this world. So when we were speaking about it, obviously it did well enough for the investors to want to do another one, which is cool, and it's great to have the opportunity to further the story. But we had to come up with a reason why, and we came up with a reason that was good enough, that didn't suck, and we're just trying to make it better and better. In terms of a franchise, I don't know, until you do it and it's done, you don't know, because it's not source material, this is original goodness."
So February 10. Let's all watch it together. 347 sun-ups and sun-downs till WICK DAY.