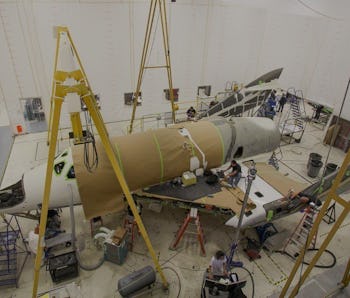 Innovation
What to Expect From Virgin Galactic's New SpaceShipTwo
After a major setback in 2014, Virgin appears ready to fly again.
Twitter
When Virgin Galactic's SpaceShipTwo crashed in October 2014, killing one pilot and injuring another, the company went back to the drawing board to prevent such a thing from ever happening again. It's now ready to unveil a newly redesigned SpaceShipTwo on Friday, according to a report.
When the media reported the crash 15 months ago, it did so with criticisms that perhaps the company wasn't up to the task of private spaceflight. NASA has a government-sized budget, went the skepticism, and it has still faced mortal setbacks in its own history. Simply put, there's a lot riding on whatever Virgin Galactic unfurls on Friday.
The Verge reports that the updated vessel will be structurally identical to SpaceShipTwo, but that many more of its features and functionality will be operated autonomously, without requiring human control (after all, it was human operator error that was partly to blame for the 2014 crash).
Such implementations ought to greatly add to the safety of the spacecraft, and considering that the company aims to eventually take passengers to dizzying heights as paying space tourists, safety is nothing less than paramount.
Here is what the previous model of SpaceShipTwo looked like:
Despite numerous people signing on to be among the first private space tourists — celebrities and regular joes alike — Virgin Galactic remains primarily focused on launching satellites into orbit around our planet for now.
Here's the best look we have so far at what the company will trot out on display tomorrow:
An emailed request by Inverse for comment to Virgin Galactic has so far gone unreturned. Looks like we'll have to wait until Friday to learn more about SpaceShipTwo.