Virgin Galactic Offers a Sneak Peek of the Next SpaceShipTwo 
The new design learns lessons from the last ship's fatal crash.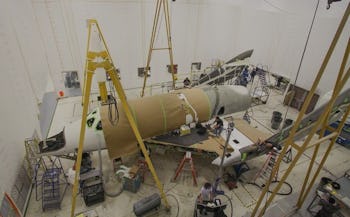 Virgin Galactic
Nearly 15 months after the original SpaceShipTwo crashed and left one crew member dead, Virgin Galactic has offered signs of renewed efforts at space travel.
In a tweet sent out Tuesday, Virgin Galactic gave space enthusiasts a peak at the ship that will make its passengers official astronauts.
A complete version of the still-unnamed new model won't debut until February, but the new model reportedly has a few design cues learned from its ill-fated predecessor. For one, safety measures will keep the ship under control by keeping the tail booms on this version from extending prematurely.
According to Virgin Galactic, SpaceShipTwo will carry up to eight people, pilots included. That will give it the largest space flight crew of any mission since NASA's 1985 STS-61-A operation.